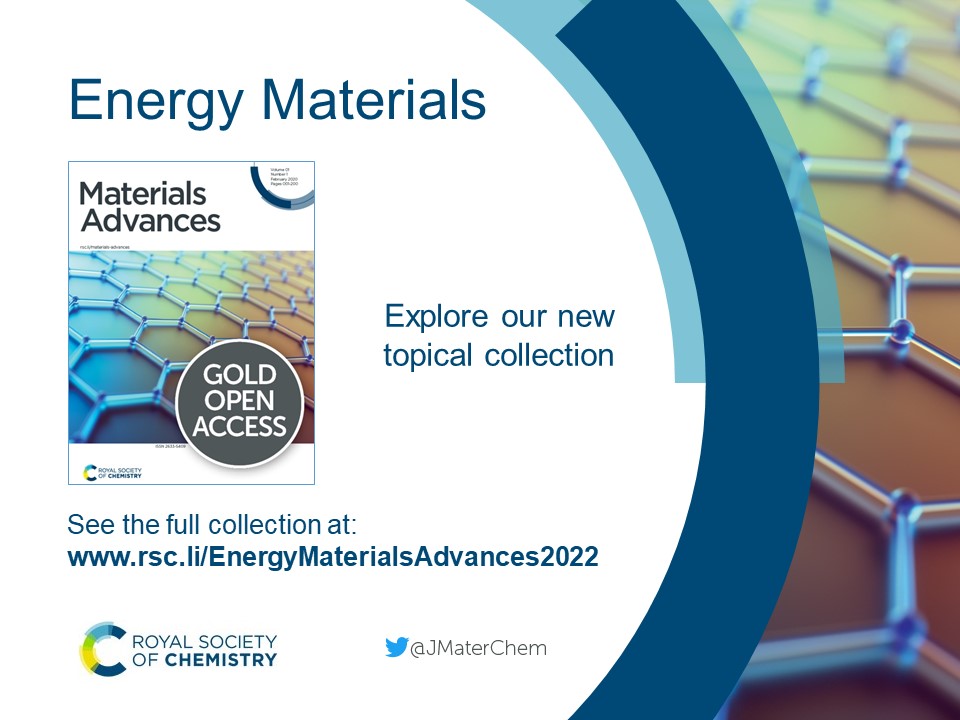 We are delighted to share with you a new collection of articles highlighting some of the most popular recent articles published in Materials Advances on energy materials. Containing both reviews and original research, the collection includes work on batteries, device fabrication, supercapacitors, and more.
Below is a snapshot of some of the papers in the collection. We hope you enjoy reading these gold open access articles.
Review
Direct ink writing of energy materials, Tagliaferri, A. Panagiotopoulos and C. Mattevi, Mater. Adv., 2021, 2, 540-563 DOI: 10.1039/D0MA00753F
Communication
Realizing poly(ethylene oxide) as a polymer for solid electrolytes in high voltage lithium batteries via simple modification of the cell setup, Lukas Stolz, Gerrit Homann, Martin Winter and Johannes Kasnatscheew, Mater. Adv., 2021, 2, 3251-3256 DOI: 10.1039/D1MA00009H
Paper
Influence of La3+ induced defects on MnO2–carbon nanotube hybrid electrodes for supercapacitors, Nilanjan Chakrabarty, Monalisa Char, Satheesh Krishnamurthy and Amit K. Chakraborty, Mater. Adv., 2021, 2, 366-375 DOI: 10.1039/D0MA00696C
Sign up now to keep up to date on Twitter, Facebook, and our e-alerts.