We are delighted to share with you a new Journal of Materials Chemistry A themed issue in honour of Prof John Kilner, on the occasion of his 75th birthday!

During his long, productive career, John Kilner has made numerous seminal contributions to the broad field of Energy Materials, advancing the fundamental understanding of critical processes in solid state batteries and solid oxide cells, and in particular, pioneering the development of methods to directly measure the ionic transport of species in solids. His work has transformed our understanding of the kinetics of surface exchange and diffusion in solids, including the cation segregation process at surfaces, transport along and across grain boundaries, as well as the effect of strain on ion mobility. More recently, he has extended his work to provide unique insights into the development of Li conducting garnet type solid state electrolytes, including focusing on processing of these materials and understanding the impact of humidity on function and stability. We hope that you will join us in celebrating his achievements and continued contributions to the field.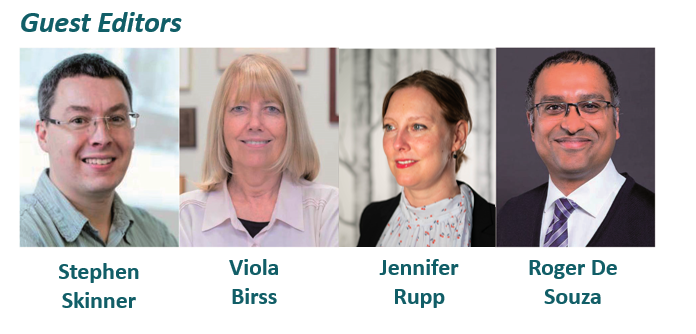 We hope you enjoy reading this collection of papers in Journal of Materials Chemistry A in honour of John Kilner, and guest edited by Stephen Skinner, Viola Birss, Jennifer Rupp and Roger De Souza. A selection of papers can be found below, or you can access the full issue here.
Editorial
Introduction to the special issue in honour of Prof. John Kilner's 75th birthday
Stephen J. Skinner, Viola Birss, Jennider Rupp and Roger A. De Souza
Mater. Chem. A, 2022, 10, 2149-2151 DOI: 10.1039/D2TA90015G
Reviews
Recent advances, practical challenges, and perspectives of intermediate temperature solid oxide fuel cell cathodes
Amanda Ndubuisi, Sara Abouali, Kalpana Singh and Venkataraman Thangadurai
J. Mater. Chem. A, 2022, 10, 2196-2227 DOI: 10.1039/D1TA08475E
A review on dual-phase oxygen transport membranes: from fundamentals to commercial deployment
Ragnar Kiebach, Stéven Pirou, Lev Martinez Aguilera, Astri Bjørnetun Haugen, Andreas Kaiser, Peter Vang Hendriksen, María Balaguer, Julio García-Fayos, José Manuel Serra, Falk Schulze-Küppers, Max Christie, Liudmila Fischer, Wilhelm Albert Meulenberg and Stefan Bauman
J. Mater. Chem. A, 2022, 10, 2152-2195 DOI: 10.1039/D1TA07898D
Articles
Anharmonic lattice dynamics of superionic lithium nitride
Gabriel Krenzer, Chang-Eun Kim, Kasper Tolborg, Benjamin J. Morgan and Aron Walsh
J. Mater. Chem. A, 2022, 10, 2295-2304 DOI: 10.1039/D1TA07631K
Atomic-scale investigation of cation doping and defect clustering in the anti-perovskite Na3OCl sodium-ion conductor
Benedek A. Goldmann, Matt J. Clarke, James A. Dawson and M. Saiful Islam
J. Mater. Chem. A, 2022, 10, 2249-2255 DOI: 10.1039/D1TA07588H
Theoretical study on stability and ion transport property with halide doping of Na3SbS4 electrolyte for all-solid-state batteries
Randy Jalem, Bo Gao, Hong-Kang Tian and Yoshitaka Tateyama
J. Mater. Chem. A, 2022, 10, 2235-2248 DOI: 10.1039/D1TA07292G