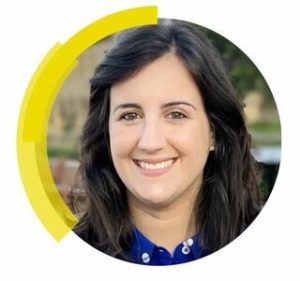 We are delighted to announce that Professor María Escudero Escribano has been selected as the winner of the Journal of Materials Chemistry Lectureship 2021. To celebrate, we have put together a collection of her publications in Royal Society of Chemistry journals:
María is currently a Professor at Catalan Institute of Nanoscience and Nanotechnology, Barcelona, Spain. However, in 2021 when she received the lectureship award, she was an Associate Professor of Chemistry at the University of Copenhagen, where her group investigated tailored interfaces and electrocatalyst materials for renewable energy conversion and electrosynthesis of green fuels and value-added chemicals. She graduated in Chemical Engineering from the University of Extremadura and obtained her Ph.D. in Chemistry from the Autonomous University of Madrid in 2011. She then started her postdoctoral research at the Technical University of Denmark and was a 'DFF: Sapere Aude Research Talent' fellow at Stanford University, before moving to the University of Copenhagen in 2017.
María is a 'Villum Young Investigator' (2018-2023) and co-PI of the Center for High Entropy Alloy Catalysis. Her work combines the insight from model studies on well-defined electrochemical interfaces with real systems and advanced materials for catalysis and renewable energy applications. María is a co-inventor of three patents on novel catalyst materials for electrochemical energy conversion. In addition to her regular invited, plenary and keynote lectures at international conferences and invited seminars at universities, she is highly involved in scientific outreach and dissemination activities.
María has received numerous awards at international and national levels in recognition of her groundbreaking research. These awards include the European Young Chemist Award 2016 (Gold Medal) from EuChemS, the Princess of Girona Foundation Scientific Research Award 2018, the Electrochemical Society Energy Technology Division Supramaniam Srinivasan Young Investigator Award 2018, the Spanish Royal Society of Chemistry Young Researchers Award 2019, and the Clara Immerwahr Award 2019.
---
The Journal of Materials Chemistry annual lectureship, established in 2010, honours early-career scientists who have made a significant contribution to the field of materials chemistry.
The Lectureship recipient receives expenses to cover travel and accommodation costs to attend and present at a leading international meeting. The recipient is also invited to contribute an article to one of the Journal of Materials Chemistry journals and to receive a complimentary back cover for the issue in which the article appears.
Please join us in congratulating María on receiving the award.