We are delighted to share with you a new collection of articles highlighting some of the most recent articles in Materials Advances on 'Fluorescent and Luminescent Materials'. Containing both reviews and original research, the collection covers the synthesis and characterisation of these materials, along with exploring multiple applications including sensing, imaging and lighting.
See the collection and read the articles.  Below is a snapshot of some of the articles included.
Review
Solid-state fluorescent carbon dots: quenching resistance strategies, high quantum efficiency control, multicolor tuning, and applications
Junli Wang, Yongzhen Yang and Xuguang Liu
Mater. Adv., 2020, 1, 3122-3142
DOI: 10.1039/D0MA00632G
Communication
L-Tyrosine derived fluorescent molecular probes as solvent mediated flip-flop halide (iodide/fluoride) sensors and reversible chromogenic pH indicators
Navnita Kumar and Sanjay K. Mandal
Mater. Adv., 2021, 2, 942-947
DOI: 10.1039/D0MA00589D
Paper
Mn2+ activated Ca-α-SiAlON – broadband deep-red luminescence and sensitization by Eu2+, Yb2+ and Ce3+
Atul D. Sontakke, Arnoldus J. van Bunningen, Sadakazu Wakui and Andries Meijerink
Mater. Adv., 2021, 2, 2075-2084
DOI: 10.1039/D1MA00036E
We hope you enjoy reading these articles!
---
Visit our website – rsc.li/materials-advances
Sign up now to get updates on all articles as they are published on Twitter, Facebook, and our e-alerts.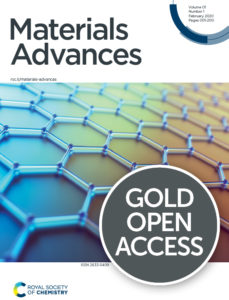 Materials Advances is an international, gold open access journal, publishing good quality research across the breadth of materials science.
Free to read, and free to publish in, the journal builds on and complements the materials research published in the Royal Society of Chemistry journal portfolio.