As summer is kicking off, glimpses of the sun lovers basking with their headphones and sunglasses on, on beaches or in other pleasant places is not rare. Imagine you are one of them. You happen to be on one the wonderful beaches, basking, listening to your favourite playlist on your mp3 player. You are having delightful time and suddenly you hear an intimidating beep notifying you that it is out of battery jeopardizing your divine moment. What will you do? Will you continue basking disappointed or take off your glasses and use them for charging your mp3 player? Yes! You read it right, sunglasses can be actually made to charge your mp3 player or your phone for that matter! Self-energy converting sunglasses based on a dye sensitized solar cell (DSSC) present this opportunity. Not limited to glasses, DSSC technology can make skylights, windows, even building facades (which are exposed daylight) capable of producing electricity. This third generation solar cell can be likened to artificial photosynthesis due to the way in which it mimics natures' absorption of light energy. According to researchers in this field this is the closest we have been to photosynthesis. This new generation of solar cells are greener, smaller, more flexible and inexpensive as compared to the early generation solar cells. These advantages are due to the usage of dye as photosensitive material which also makes the working mechanism simple. Dye molecules respond to light by transferring electrons to the titanium dioxide layer which helps in the movement of electrons constructing current. The circuit is completed by the electrolyte present in the cell transferring the electrons back to the dye.
Although this DSSC technology has produced a record efficiency of 11% conversion of solar energy to electrical energy, researchers all over the globe are trying to elevate the efficiency of the system by synthesizing and incorporating new dyes with different structures and functional groups with electron donating capacity.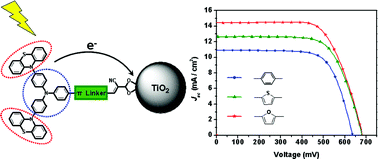 Generally dye used in DSST consists of electron donor, linker and electron acceptor moieties connected to each other. In a very fine effort to optimize the structure of the dye, Zhongquan Wan, Chunyang Jia etal, cited below, investigated effect of different linker moieties in the dye structure on the efficiency and overall working of the solar cell. The 3 different linker moieties investigated were benzene, thiophene and furan. They not only successfully synthesized dyes with different linker moieties but also calculated the working efficiency and performance of the cell. They reported that furan as linker moiety works best as compared to other 2 linkers. Also they successfully reported synthesis of star-burst shaped dyes which reduces aggregation between the dye molecules giving rise to better performance of the cell. This high impact study will certainly contribute to make this green DSSC technology more efficient and hence commercialized.
Phenothiazine–triphenylamine based organic dyes containing various conjugated linkers for efficient dye-sensitized solar cells
Zhongquan Wan, Chunyang Jia, Yandong Duan, Linlei Zhou, Yuan Lin and Yu Shi
J. Mater. Chem., 2012, 22, 25140-25147
DOI: 10.1039/C2JM34682F
Padmanabh Joshi is a guest web writer for the Journal of Materials Chemistry blog. He currently works at the Department of Chemistry, University of Cincinnati.
To keep up-to-date with all the latest research, sign-up to our RSS feed or Table of contents alert.