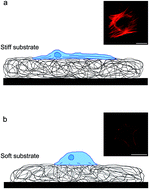 When thinking about movement of the human body it is often thought about it in terms of muscles contracting and relaxing, joints bending and straightening, but I don't think I have ever thought about movement on a cellular level.
During movement cells in our bodies are subject to mechanical force and as a result they are stretched, sheared and compressed. Many cells passively experience this force and some have even evolved to be particularly sensitive to it and act as sensors – such as the tiny hairs present inside the human ear.
However, some cells are a bit more active and can actually exert their own mechanical force on the environment around them. This interaction is used to achieve various physiological functions like the healing of tissue, fighting infection and growth and differentiation of cells. In order to carry out these functions the cells must be able to sense and understand the mechanical context of the world around them.
This review summarises the evolution of the area of science focused on understanding the mechanobiology of cells and tissues and how different properties of their surrounding environment can be analysed both scientifically and by the cell itself. It also goes further to discuss of different material properties effect the mechanosensing of cells.  Whilst this is still a developing field this review gives a good overview of where our present understanding is at and what limitations there are to overcome in the future.
The role of material structure and mechanical propertie in cell-matrix interactions
Nicholas D. Evans and Eileen Gentleman
J. Mater. Chem. B, 2014, 2, 2345-2356. C3TB21604G
H. L. Parker is a guest web writer for the Journal of Materials Chemistry blog. She currently works at the Green Chemistry Centre of Excellence, the University of York.
To keep up-to-date with all the latest research, sign-up to our RSS feed or Table of contents alert.