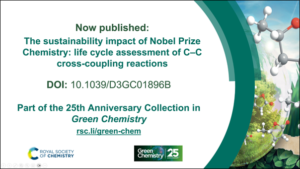 Published in Issue 25 and highlighted by Prof. Javier Pérez-Ramírez (Editorial Board Chair) and Dr. Michael Rowan (Executive Editor) for inclusion in our 25th Anniversary Collection, "The sustainability impact of Nobel Prize Chemistry: life cycle assessment of C–C cross-coupling reactions" paper is already receiving a great deal of attention in the community (DOI: 10.1039/D3GC01896B).
The paper presents a comprehensive study based on life cycle assessment (LCA) to evaluate the environmental profiles of carbon-carbon cross-coupling reaction (CCR) in terms of the materials involved and their energy consumption.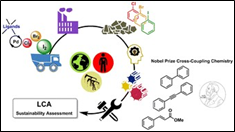 Cross-coupling reaction protocols are among the most important reactions for the synthesis of building blocks, and their great significance led to them being awarded the Nobel Prize in 2010. The objectives and value of this study were to evaluate the intrinsic potential of CCR protocols through LCA-based environmental assessment and to demonstrate that creation of large initial innovation likely multiplies to massive literature impact in the years after. The motivation behind this work was to help future innovations to be even more powerful with the authors hoping that this study will contribute to the improvement and optimization of future CCR research.
Read our interview with the corresponding authors below.
Could you briefly explain the focus of your article?
Life cycle assessment was conducted for the Nobel Prize of Chemistry 2010, inventing the C-C cross coupling, which was seminal for modern synthesis of innovative chemicals and pharmaceuticals. It was aimed to assess the original strategy only, and not how it was improved in the almost four decades after, separating idea and translation of idea.
How would you set this article in a wider context?
Sustainability is typically measured when innovations turn into applications, meaning one decade or more later. This also mean that the industrial translation of the innovation is assessed, rather than the innovation itself. We have developed an intrinsic sustainability assessment of the innovation itself, exemplified at the paramount Nobel Prize innovations.
Can you express your view on the importance of metrics and analysis (techno, economic, ecological, etc) to the chemistry community?
While metrical analysis can judge on the sustainability achievement of a chemical innovation after its demonstration, we see the true value in the assessment shaping a chemical idea during its nascence and guiding it in its early moments.
What aspects of this work are you most excited about at the moment and what do you find most challenging about it?
Knowing that Nobel Prize innovations have highest esteem and demand for ultimate seriousness in discussion, we are excited to arguably have made an informative and balanced assessment. Challenging was to separate intrinsic and extrinsic effects, seeing that we need to neglect the chemical yield for the first, while this is crucial value for any chemical synthesis and its metrics.
What is the next step? What work is planned?
We like to make a follow-up paper with more generalised methodology, meaning tailored metrics for intrinsic value of innovations; published in Green Chemistry journal. In addition we will aim to assess precise challenging real world molecules that have been prepared using this idea.
Why did you choose to publish in Green Chemistry?
It is a top-tier, highly respected journal in Chemistry, open for cross-discipline, blue sky research, and has transparent, professional journal management.
Meet the corresponding authors.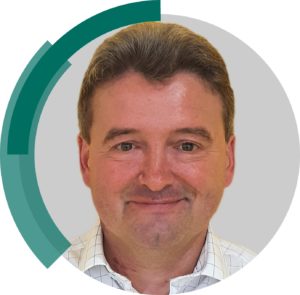 Prof. Volker Hessel studied chemistry at Mainz University. In 1994, he went to the Institut für Mikrotechnik Mainz GmbH. In 2002, he was appointed as vice director of R&D at IMM and became director of R&D in 2007 and in 2005, he started working at the Eindhoven University of Technology, Netherlands. He has been working at the University of Adelaide, Australia, as deputy dean (research) at the ECMS faculty and professor in pharmaceutical engineering since 2018, and as a part-time professor University of Warwick/UK since 2019.
Volker received the AIChE Excellence in Process Development Research Award, IUPAC ThalesNano Prize in Flow Chemistry. He is program lead in the ARC Centre of Excellence Plants for Space (P4S), and is Research Director of the Andy Thomas Centre for Space Resources. He received several EU's research excellence grants (ERC Advanced/Proof of Concept/Synergy, FET OPEN). He was authority in a 35-teamed Parliament Enquete Commission "Future Chemical Industry".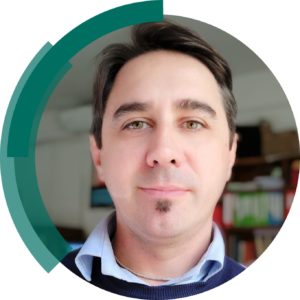 Prof. Luigi Vaccaro is a Full Professor at the University of Perugia where he is leading the Green S.O.C. group, http://greensoc.chm.unipg.it. He is Fellow of the Royal Society of Chemistry (FRSC) and he is currently appointed as Associate Editor of the RSC Advances and of Beilstein Journal of Organic Chemistry. His recognitions comprise the Europa Medal from the Society of Chemical Industry – London (2001), the ADP Award from Merck's Chemistry Council for "Creative work in organic chemistry" (2006 and 2007), the G. Ciamician Medal of the Società Chimica Italiana (2007), the Lady Davis (2018) Visiting Professorship, the Pino Medal from the Organic and Industrial Divisions of the Italian Chemical Society. His research is aimed at developing different aspects of chemistry to define sustainable and optimized chemical processes. Luigi has published over 260 scientific contributions with an H-index of 58, and about 9000 citations.