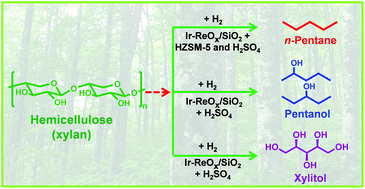 Japanese scientists have discovered a method to convert tree hemicellulose (xylan) in a tunable fashion to either one of three chemical product streams, depending on the combination of catalysts and solvent phases employed. Hemicellulose is 20-30% of the structural lignocellulose component of biomass, with cellulose (40-50%) and lignin (20-30%) accounting for the remainder. As part of a biorefinery, it is important to be able to advantageously develop all of the feedstock into products in order to reduce waste and value the economic and material investment made during biomass production.
First, rhenium was introduced into an iridium impregnated silica. The resulting catalyst was capable of producing xylitol from xylan (79% yield) if used in combination with sulphuric acid in an aqueous reaction. Some success in achieving a partial reduction to pentanol was then observed when an organic solvent was introduced to the reaction. Finally, full hydrogenolysis to give pentane (in 70% yield) was accomplished by adding a HZSM-5 zeolite to the biphasic reaction.
The heterogeneous catalyst is recoverable and can be reactivated to continue providing a good yield of pentane. Thus a new flexibility to woody biomass processing has been demonstrated, complementing the more prevalent studies on cellulose and lignin.
This work is included in a online collection showcasing work presented at the 3rd International Symposium on Green Chemistry held in La Rochelle, France on 3rd-7th May 2015. Access the full collection of articles here.
Selective transformation of hemicellulose (xylan) into n-pentane, pentanols or xylitol over a rhenium-modified iridium catalyst combined with acids
Sibao Liu, Yasuyo Okuyama, Masazumi Tamura, Yoshinao Nakagawa, Akio Imai and Keiichi Tomishige
Green Chem., 2016, Advance Article. DOI: 10.1039/C5GC02183A