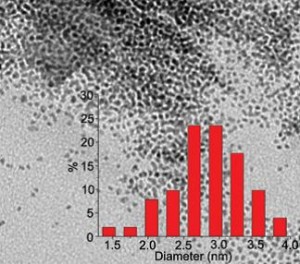 Graphene is one of the most exciting and promising materials to have emerged into the laboratory in recent years. Among its many possibilities it can be used as a support for various catalysts, such as the highly-dispersed ultrafine platinum nanoparticles synthesised by Baoqiang Sheng and colleagues at Key Laboratory of Organic Synthesis of Jiangsu Province in China.
The group used their graphene-supported platinum catalysts to reduce various unsaturated compounds, including not only C-C double and triple bonds but also nitroarenes. These could be selectively converted to their corresponding functionalized anilines – important intermediates in the preparation of polymers, urethanes, dyes, pharmaceuticals, and other industrially-important chemical products.
They claim  excellent yields (over 99% in most cases) under mild conditions, with the ability to accelerate the reaction rate by increasing the pressure to 4 atm, giving complete hydrogenation products in ten minutes.
The paper provides details of the preparation and characterisation of the supported catalysts, and lists the experimental procedures together with results of the reductions that were carried out.
This article is currently free to access through the RSC Advances website:
Highly-dispersed ultrafine Pt nanoparticles on graphene as effective hydrogenation catalysts, Baoqiang Sheng, Lei Hu, Tingting Yu, Xueqin Cao and Hongwei Gu, RSC Adv., 2012, 2, 5520–5523