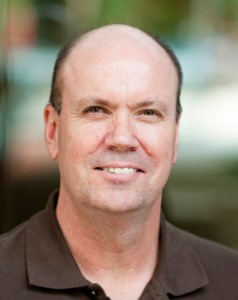 Prof. Andrew Whittaker is the leader of the Polymer Chemistry group within the Australian Institute for Bioengineering and Nanotechnology, and the Centre for Advanced Imaging at the University of Queensland. He received his PhD from the University of Queensland in 1986, and subsequently held positions as a postdoctoral research fellow at the Université des Sciences & Techniques de Languedoc (with Patrick Bernier) and at the Max-Planck-Institut für Polymerforschung (with Hans Spiess). He was a research chemist in Ken Packer's labs at BP Research Sunbury for three years before returning to Australia to take up a position at the Centre for Magnetic Resonance at the University of Queensland in 1991. He was promoted to full professor in 2004 and was an inaugural Group Leader within the AIBN (2005). His research interests span many aspects of polymer physical chemistry, but currently are focused on the science and application of transport properties in swollen polymers and the structure of heterogeneous polymers. The target application areas are polymeric biomaterials (imaging agents, drug delivery, functional surfaces) and polymers for photolithography (polymer resists, block copolymer graphoepitaxy). He collaborates with scientists in the USA, UK, Germany, Japan and China.
Research website: http://www.uq.edu.au/polymer-chemistry
What was your inspiration in becoming a chemist?
My interest in chemistry is driven by natural curiosity – as a child I loved to conduct "chemical reactions" with anything at hand around the house or farm – to the bemusement of my grandparents and their livestock! I have always wanted to understand how things, in particular matter, are made and how they work – what are the building blocks of the beautiful objects around us? As a child living in the country I devoured information on chemistry – my mother bought the Encyclopaedia Britannica when I was 8 years old and I read every article within the 26 volumes related to chemistry. The authors were world-renowned – I didn't know it then – Flory wrote the article on Polymers, for example. This natural interest led to success in the field at school and naturally onto university. An important moment for me as an undergraduate student was seeing a well-known professor of polymer physical chemistry speak of his research – his presentation was distinguished and profound and provided a firm role model for a budding scientist.
What was the motivation to write your Polymer Chemistry article?  (DOI: 10.1039/C3PY00654A)
Our group has a very active program in development of new medical imaging agents. We are in the fortunate situation of having world-class chemistry labs immediately adjacent to a powerful suite of imaging systems (MRI, PET, CT, fluorescence and all combinations) at the Centre for Advanced Imaging. We have developed an integrated program in the field of imaging agents from polymer chemistry, through in-vitro and in-vivo analysis and ultimately human imaging with our clinical partners in hospitals in Brisbane.
Why did you choose Polymer Chemistry to publish your work?
Polymer Chemistry is a high-quality journal with a record of publishing work which spans scientific disciplines. The editorial and production teams are extremely well-organised and turn-around time is short.
In which upcoming conferences may our readers meet you?
EP'2013 Xiamen; ICBNI 2013 Beijing; 62nd SPSJ Symposium on Macromolecules Kanazawa; IPST 2013 Yogyakarta; PPC13 Taiwan; ICFPAM 2013 Auckland
How do you spend your spare time?
We have a 2 year old daughter so spare time does not exist. My (dormant) hobbies include history, bush walking/camping, gardening, brewing beer and cooking.
Which profession would you choose if you were not a scientist?
I cannot imagine a career outside of science. If not chemistry then I would be a botanist.
Cyrille Boyer is a guest web-writer for Polymer Chemistry. He is currently associate professor and an ARC-Future Fellow at the Australian Centre for NanoMedicine and Center for Advanced Macromolecular Design (School of Chemical Engineering, University of New South Wales (Australia)).
To keep up-to-date with all the latest research, sign-up to our RSS feed or Table of contents alert.