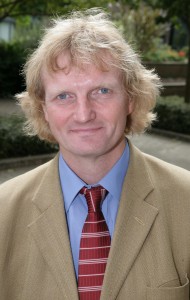 Steve Howdle is currently leading his research group in the School of Chemistry, The University of Nottingham, UK. His main research interests are supercritical fluids, biomaterials, polymer modification, polymer composites, nanocomposites and devices. Steve is the chairman of the Macro Group UK, which is a joint interest group of the Royal Society of Chemistry and Society of Chemical Industry. Steve is also coach of the Toton Tigers Under 10s football squad and holds an official coaching award of the English FA.
Please follow the link to get more information about Steve's research group and his recent paper in Polymer Chemistry.
What was your inspiration in becoming a chemist?
Just like many others, I was inspired by some very good chemistry teachers when I was at School – flashes, bangs, flames and smells – all the things that still attract young people to chemistry!

What was the motivation behind the research in your recent Polymer Chemistry paper?
I've been working with supercritical carbon dioxide for most of my career.  The world  has a problem with CO2 – and a great deal of effort and money is being channelled into collecting and storing it. I think we really ought to be using it!  Some chemists are activating it, some are polymerising it, I think that if just some of that CO2 could replace other solvents this could have a  large impact which would be very positive for the environment.  But it's more than that – we have shown that there are many cases where you can carry out a reaction or a process in supercritical CO2 that you simply cannot achieve in a normal solvent – so there could be very real advantages to using CO2 – and that has been a major driver for my research recently with applications from polymer and material synthesis through to tissue engineering and drug delivery.
This particular paper is focussed on showing that some new inexpensive  polymers have high solubility in CO2 and could be used as effective surfactants and stabilisers for CO2. Up till now, only fluorinated and silicone based materials showed significant solubility, and these can be expensive and are not always environmentally benign. We hope that our paper will show that alternative, cheaper materials could be used, and hence open up more opportunities to exploit supercritical carbon dioxide.
Why did you choose Polymer Chemistry to publish your work?
It's the first RSC Journal focussed on Polymers, and it really is a natural choice for quite a lot of my research.  This is my first paper in PC – but I'm sure there will be more!

In which upcoming conferences may our readers meet you?
The next conference I will be going to is quite unusual – The 6th Scientific and Engineering Conference with International Participation "Supercritical Fluids: Fundamentals, Technologies, Innovations" is being held on the shores of Lake Baikal, Siberia in early July!
How do you spend your spare time?
I have two teenage boys – both competitive swimmers – and I spend a lot of my time ferrying them to training and competitions (I'm writing these answers by the pool!).  I also love football, I still play (for a Veterans' team) and I also coach kids – I am the manager of the Toton Tigers U13s squad.

Which profession would you choose if you were not a scientist?
Football player– but I wasn't good enough!