Despax et al. report the synthesis of triblock copolymers and their application as thermoresponsive hydrogels.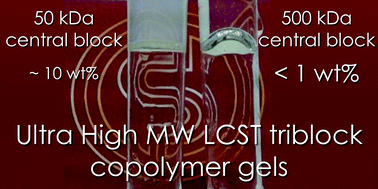 Temperature responsive gelators can benefit a wide range of biomedical applications and typically comprised of triblock copolymers with a central hydrophilic block and terminal blocks that undergo a hydrophilic to hydrophobic transition at a specific temperature. However, typical ABA triblock copolymers obtained from commercially available monomers require concentrations of at least 50-100 g L-1.
Harrisson, Destarac and co-workers have managed to circumvent this by synthesizing high molecular weight triblock copolymers via low temperature reversible addition-fragmentation chain-transfer (RAFT) gel polymerization. The targeted triblock copolymers were based on polydimethylacrylamide (PDMA) as the long central hydrophilic block and poly(N-isopropylacrylamide) (PNIPAM) as the shorter terminal blocks and the gel formation was initially demonstrated via vial-inversion tests.
Two different molecular weight triblock copolymers were tested with the PDMA block varying from 58 kg mol-1 to 421 kg mol-1 showing self-supporting gels at 30 g L-1 and 6 g L-1 concentration respectively, which is already a significant improvement over previously reported materials. As the vial-inversion test is subject to experimental variations, a more objective measure of the effect of the temperature was obtained from the evolution of the storage and loss moduli of aqueous polymer solutions.
For the lower molecular weight polymer, a two-step transition consisting of an initial thickening of the solution at the lower critical solution temperature (LCST) of PNIPAM occurred followed by gel formation at 38–39 °C requiring a minimum concentration of 20 g L-1. For the longer polymer, only the second transition was observed; gel formation occurred at 40-45 °C with a minimum concentration of 4 g L-1. With a storage modulus of only 0.1 Pa however, this gel is likely too soft for practical use.
In an attempt to improve the mechanical properties of the gels, 2-acrylamido-2-methylpropanesulfonic acid was also incorporated (20 mol% of DMA) resulting on the formation of self-supporting gels at 2 g L-1, an order of magnitude improvement over previously-reported ABA copolymers. These results approach the performance obtained from exotic polymers such as polyisocyanopeptides.
Tips/comments directly from the authors:
High monomer concentrations are helpful to obtain high molecular weights. However, the polymerization of acrylamides is very exothermic so it is important not to exceed 30 wt%.
As very low initiator concentrations are used, it is important to thoroughly degas all solutions prior to polymerization.
Take care to exclude any air bubbles from the solution when carrying out rheology measurements.


Read this exciting research for free until 03/07/2016 through a registered RSC account:
Low concentration thermoresponsive hydrogels from readily accessible triblock copolymers
L. Despax, J. Fitremann, M. Destarac and S. Harrisson
Polym. Chem., 2016, 7, 3375-3377
DOI: 10.1039/C6PY00499G
—————-
About the webwriter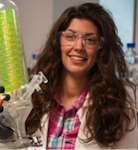 Dr. Athina Anastasaki is a web writer for Polymer Chemistry. She is currently an Elings fellow working alongside Professor Craig Hawker at the University of California, Santa Barbara (UCSB).