Soft Matter is excited to announce an open call for submissions to themed collection on 'Food as soft matter'
Guest Edited by Associate Professor Vivek Sharma (University of Illinois Chicago, USA), this themed collection invites contributions in form of articles, communications, reviews and perspectives aimed at understanding and analysing food as soft matter and molecular gastronomy: the physicochemical basis for designing foods. Imagine bread, butter, wine, cheese, ice cream, chocolates, mayo, frothy beers, milk, yogurt, sushi, meats, cotton candy, burgers, fondue, chips, cookies, cakes, and champagne. Contributors are requested to use the lens of soft matter and present their original research efforts that dive into the science of cooking and molecular gastronomy, food production, processing, and consumption by highlighting concepts from statistical thermodynamics, macromolecular and soft matter physics, interfacial science, fluid mechanics and rheology (science of deformation & flow). Many food materials are rheologically-complex fluids that can be modelled as multicomponent colloidal dispersions with a continuous liquid phase containing dispersed proteins, polysaccharides, drops, bubbles, particles, and self-assembled structures (like micelles). Contributors are encouraged to discuss the influence of the dispersed and the continuous phases and of ingredients like salt, sugar, fat, animal proteins, and gluten on stability, microstructure, rheology, and heuristic properties like dispensing behaviour, stickiness, thickening, stringiness, softness, creaminess, mouthfeel, texture, foamability, and chewability. The Guest Editor's focus is on curating an anthology and a landmark collection of original papers and reviews that place significant emphasis on understanding current foods to develop the roadmap for sustainable, cost-effective, healthier, and tasteful alternatives, including meat and dairy alternatives with plant-based ingredients.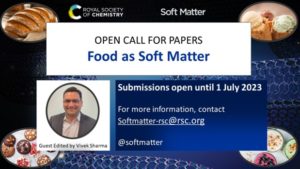 Submissions open until 1 July 2023
If you wish to submit to the collection, please contact softmatter-rsc@rsc.org 
Submissions to the journal should fit within the scope of Soft Matter – Please see the journal website for more information on the journal's scope, standards, article types and author guidelines. All submissions will be subject to initial assessment by the journal Associate Editors and are subject to the journal's standard rigorous peer review procedures, as such we cannot guarantee peer review or acceptance in the journal. Accepted manuscripts will be added to the online collection as soon as they are online and they will be published in a regular issue of Soft Matter.