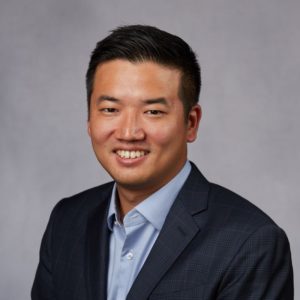 Jeremy Cho is an Assistant Professor of Mechanical Engineering at the University of Nevada, Las Vegas (UNLV). Previously, he was a postdoctoral research associate at Princeton University in the Chemical and Biological Engineering Department where he studied water transport and solid mechanics of granular hydrogel systems. He received his PhD and SM in mechanical engineering from MIT where he focused on phase-change heat transfer and interfacial phenomena. He received his BSE in mechanical engineering from the University of Michigan. In 2022, he received the National Science Foundation CAREER and the American Chemical Society Petroleum Research Fund Doctoral New Investigator awards. As he is originally from Hawaiʻi, Jeremy named his group "Da Kine Lab" from Hawaiian Pidgin as the term is a placeholder similar to "whatchamacallit" representing the very diverse range of research topics he pursues: liquid-vapor phase-change phenomena, heat and mass transfer, interfacial and wetting phenomena, surfactant chemistry, and polymer physics.
Find out more about his work via:
Website: dakine.sites.unlv.edu
LinkedIn: Jeremy Cho – Assistant Professor – University of Nevada-Las Vegas | LinkedIn
Read Jeremy Cho's Emerging Investigator article http://xlink.rsc.org/?doi=10.1039/D2SM01215D
How do you feel about Soft Matter as a place to publish research on this topic?
To me, Soft Matter, is the catch-all journal for fields that are near and dear to me: polymers, mechanics, and transport. This is my third Soft Matter paper—and the journal has a special place in my heart as it is where I published my first paper with my own lab group since becoming faculty. I look forward to continuing to publish in Soft Matter and getting better connected with its highly diverse readers.
What aspect of your work are you most excited about at the moment and what do you find most challenging about your research?
Actually, some of the most challenging things can be the most exciting parts. We deal with a lot of polymer theory and thermodynamics so we try to visualize how polymer strands behave—they're too small to just fire up a microscope and observe. These are very difficult thought experiments, but over the course of many discussions and drawings with students and colleagues and poring over the literature, I found that analogies can be incredibly helpful. We end up coming up with pretty hilarious analogies—often with food—that we feel really illustrates certain concepts in a very obvious way. With this paper, it was a noodles as polymer strands analogy. And the analogy went deeper where if you imagine that if you are eating the noodles in a bowl of noodle soup, the volume fraction of noodles diminishes, loosening up the mixture—akin to a hydrogel becoming softer and permeable. I always felt that just throwing up an equation can only do so much. Being able to convey an understanding in a way that is relatable to the co-authors, readers, your family members, and really anyone is such a challenging yet exciting task. Nonetheless, I believe being an effective scientific communicator, both to our field and the public, is an important duty.
In your opinion, what are the most important questions to be asked/answered in this field of research?
Sometimes, the best questions come from non-scientists who ask me about what the work in our field means. It helps us define a purpose for our research. I also believe it is important for us, in the field, to ask each other to "explain it like we're five" as a constant check on the familiarity of our understanding on a topic.
Can you share one piece of career-related advice or wisdom with other early career scientists?
Starting a brand new research group is tough! Getting your students to immediately understand your past work and continue it in their own way is something that doesn't just happen as smoothly as an Olympic baton handoff. I would say that showing your passion and enthusiasm for a topic or skill set really does rub off on your students and eventually they will find their way.