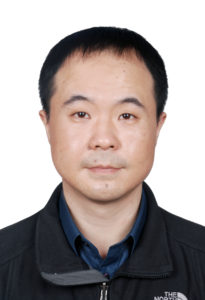 Jiajia Zhou received his BSc in physics from Peking University in 2002. He then went to Canada and finished his PhD in physics from McMaster University in 2010, under the supervision of Prof. An-Chang Shi. He was a postdoctoral researcher from 2011 to 2015 at University Mainz in Germany with Prof. Friederike Schmid. He joined Beihang University as an Associate Professor in 2015, and moved to South China University of Technology in 2021. His research focuses on theoretical modelling and computer simulation of soft matter.
Read Jiajia's Emerging Investigator article "Wetting equilibrium in a rectangular channel" and check out all of the 2021 Soft Matter Emerging Investigator articles here.
How do you feel about Soft Matter as a place to publish research on this topic?
Soft Matter is a great platform to publish our research on soft matter.
What aspect of your work are you most excited about at the moment and what do you find most challenging about your research?
My research focuses on the theory and simulation of soft matter dynamics. I'm most excited about applying our theoretical formulation (Onsager principle) to various different systems, making predictions to compare with simulations and experiments. The most challenging aspect of our research is to construct a model that is as simple as possible, but not simpler (borrowed from Einstein).
In your opinion, what are the most important questions to be asked/answered in this field of research?
Soft matter systems involve many different physical/chemical processes, and often out of equilibrium. For us, the most important question is how to derive the non-equilibrium dynamical equations that are thermodynamically consistent, and can be verified by experiments.
Can you share one piece of career-related advice or wisdom with other early career scientists?
Find a good mentor. I am fortunate to work with Prof Masao Doi when I started my independent research. The influence is immense.