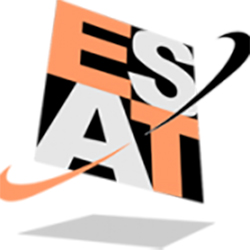 18 – 21 May, 2017, Bucharest, Romania
Abstract submission extended to 31st January 2017. Early bird registration is open – book before 15th February 2017!
The European Symposium on Applied Thermodynamics (ESATB) was founded in 1974 by Professor Helmut Knapp in order to bring together researchers from academia and industry from all over the world.
The ESAT2017 conference aims to cover new experimental achievements, prediction of thermophysical properties of complex systems, molecular and statistical thermodynamics, molecular modeling and simulation. The conference offers the opportunity to present state-of-the-art research on various topics and aims to generate fruitful scientific discussions and collaborations. Plenary lectures, oral presentations and poster sessions will make sure that this interaction is made. The ESAT conference is organized in cooperation with the Working Party on Thermodynamics and Transport Properties: the EFCE Excellence award will be granted on that occasion to an young researcher who has contributed significantly to the field.
A special session will be hosted on Teaching Thermodynamics.


Invited speakers:
Prof. Ioannis Economou (Texas A&M University of Qatar, Qatar): "Thermodynamics of fluids in confinement: Molecular models and property predictions"
Prof. Horia Iovu (University Politehnica of Bucharest, Romania): "Polymer – based nanocomposites. New methods and concepts"
Dr. Michael Kleiber (Thyssenkrupp Industrial Solutions AG, Bad Soden / Taunus, Germany): "Thermodynamics in Qatar"
Prof. Eugénia A. Macedo (University of Porto, Portugal): "ATPS for the Recovery of Biomolecules: Characterisation and Application"
Prof. Dan Vladimir Nichita (University of Pau, France)
Prof. Athanassios Z. Panagiotopoulos (Princeton University, United States of America): "Electrolyte solutions: Simulation challenges and the quest for better models"
Prof. Romain Privat (University of Lorraine, France): "How to parameterize SAFT and cubic equations of state to boost their performance"
Prof. J.P. Martin Trusler (Imperial College London, United Kingdom): "Phase Behaviour, Volumetric and Caloric Properties of CO2-Hydrocarbon Mixtures: Experiments and Modelling"
Prof. Thijs J.H. Vlugt (Delft University of Technology, The Netherlands): "Solubility of precombustion gasses and sulfur components in ionic liquids and physical solvents by Monte Carlo simulations"