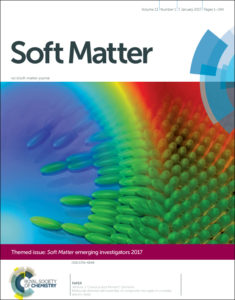 Issue 1 of Volume 13 of Soft Matter is an Emerging Investigators special issue, highlighting the recent work of leading researchers in the field who are in the earlier stages of their careers as group leaders.
The collection showcases both experimental and theoretical work from around the globe, and features investigations across a wide diversity of soft materials, including polymers, liquid crystals, nanoparticles, foams, emulsions and biological matter.
Check out the Editorial by Executive Editor Neil Hammond.
A few articles from the themed issue are highlighted below
Drop morphologies on flexible fibers: influence of elastocapillary effects
Alban Sauret, François Boulogne, Katarzyna Somszor, Emilie Dressaire and Howard A. Stone
Dynamic dilution exponent in monodisperse entangled polymer solutions
T. Shahid, Q. Huang, F. Oosterlinck, C. Clasen and E. van Ruymbeke

Ion specificities of artificial macromolecules
Lvdan Liu, Ran Kou and Guangming Liu