We are delighted to announce that the Green Chemistry themed issue International Symposium on Green Chemistry 2022 is now online and free to access until the end of January 2024.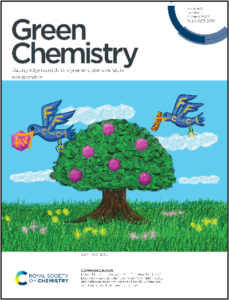 Guest Edited by François Jérôme, this collection comprises articles based on presentations from the International Symposium on Green Chemistry 2022 meeting held in La Rochelle, France between 16th-20th May 2022.
Read the full issue online
It includes:
Tutorial Review
Physico-chemical challenges on the self-assembly of natural and bio-based ingredients on hair surfaces: towards sustainable haircare formulations
Gustavo S. Luengo, Fabien Leonforte, Andrew Greaves, Ramon G. Rubio and Eduardo Guzman
Green Chem., 2023, 25, 7863-7882. DOI: 10.1039/D3GC02763E
Communication
Supercritical carbon dioxide as reaction medium for selective hydrogenation of fluorinated arenes
Souha Kacem, Yunxiang Qiao, Cornelia Wirtz, Nils Theyssen, Alexis Bordet and Walter Leitner
Green Chem., 2022, 24, 8671-8676. DOI: 10.1039/D2GC02623F
Communication
Decarboxylative arylation with diaryliodonium(iii) salts: alternative approach for catalyst-free difluoroenolate coupling to aryldifluoromethyl ketones
Kotaro Kikushima, Kohei Yamada, Narumi Umekawa, Natsumi Yoshio, Yasuyuki Kita and Toshifumi Dohi
Green Chem., 2023, 25, 1790-1796. DOI: 10.1039/D2GC04445E
Paper
Antioxidant silicone oils from natural antioxidants
Michael A. Brook, Akop Yepremyan, Guanhua Lu, Miguel Melendez-Zamudio, Daniel J. Hrabowyj and Cody B. Gale
Green Chem., 2022, 24, 8751-8759. DOI: 10.1039/D2GC03112D
Paper
Influence of stabilisers on the catalytic activity of supported Au colloidal nanoparticles for the liquid phase oxidation of glucose to glucaric acid: understanding the catalyst performance from NMR relaxation and computational studies
Eleonora Monti, Alessia Ventimiglia, Luke Forster, Elena Rodríguez-Aguado, Juan Antonio Cecilia, Francesca Ospitali, Tommaso Tabanelli, Stefania Albonetti, Fabrizio Cavani, Ivan Rivalta, Carmine D'Agostino and Nikolaos Dimitratos
Green Chem., 2023, 25, 2640-2652. DOI: 10.1039/D2GC04418H
Paper
Molybdate ionic liquids as halide-free catalysts for CO2 fixation into epoxides
Nicola Bragato, Alvise Perosa, Maurizio Selva, Giulia Fiorani and Roberto Calmanti
Green Chem., 2023, 25, 4849-4860. DOI: 10.1039/D2GC04475G
Paper
Acid hydrolysis of chitin in calcium chloride solutions
Yudi Wang, Jia Kou, Xuewei Wang and Xi Chen
Green Chem., 2023, 25, 2596-2607. DOI: 10.1039/D2GC04246K
We hope you enjoy reading the articles. Please get in touch if you have any questions about this themed collection or Green Chemistry.