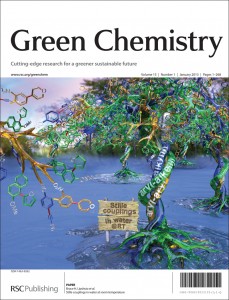 We are delighted to announce that Green Chemistry's Impact Factor* has risen to a new high of 6.8!
Walter Leitner, Chair of the Green Chemistry Editorial Board said of the news: "Once again, the impact factor for Green Chemistry has seen a significant increase, reaching an all-time high of 6.8. This is due to the excellent research of the community and the dedication of the authors to share their exciting results, the enormous efforts by the referees to ensure the highest quality, the distinguished profile of the journal and the tremendous and exceptionally professional job of the management office! Taking the impact factor as tool (not the goal) for a journal to measure the reception of its content by the community, I think we can all be proud of this development."
We would like to thank all our authors, referees, readers and Editorial and Advisory Board  members for their help and support on the Journal.
Green Chemistry was launched 15 years ago and ever since has led the way publishing cutting edge research on the development of alternative sustainable technologies. We invite you to submit your latest research on sustainable chemistry and technology to Green Chemistry. 
Keep up-to-date with the latest content in Green Chemistry by registering for our free table of contents alerts. 
Read more about the 2012 Impact Factors on the RSC Publishing Blog.
*The Impact Factor provides an indication of the average number of citations per paper. Produced annually, Impact Factors are calculated by dividing the number of citations in a year by the number of citeable articles published in the preceding two years. Data based on 2012 Journal Citation Reports®, (Thomson Reuters, 2013).