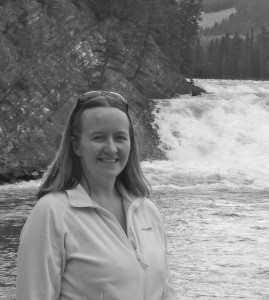 Francesca Kerton is Associate Professor of Green Chemistry at the Memorial University of Newfoundland, Canada.  Her research into green chemistry encompasses three main themes: catalysis (including organometallic chemistry), solvent replacement (including supercritical fluids) and renewable feedstocks.  Fran kindly spared a few moments to chat to Green Chemistry…
Who or what initially inspired you to become a chemist?
When I was very young, like many other children, I played in the garden making mud-pies and would attempt to make perfumes using the flowers there. I always liked to get my hands dirty and was a bit of a tomboy. At the root of this, I think I really wanted to understand how things worked, what they were made from and if you could turn them into something else. So in that regard, nature was my inspiration. When I was older and began secondary school, some of our first practical classes involved separations and paper chromatography. These also included looking at isolating chlorophyll and other natural products from plants. My school had excellent chemistry teachers, who would go the extra mile to explain things and challenge the bright students. Most importantly, they made what we were learning relevant to everyday life. I have very fond memories of my GCSE and A-Level Chemistry teachers, Ms. Jones and Mr. Woodstock, and they definitely inspired me to pursue a career in chemistry.
What was the motivation behind the research described in your recent Green Chemistry article?
I have been interested in 'green' solvents for sometime and water, ionic liquids and carbon dioxide have all been used in my group recently. I relocated to Newfoundland in Canada from the UK in 2005. In the UK, I had been involved with the Green Chemistry Group at York and had just started to perform research using renewable feedstocks to make new materials and compounds. Historically, Newfoundland had a large fishing industry and it still has a vibrant fishing community, particularly in both catching and farming shellfish. I knew that this industry would produce a number of by-products and I was particularly interested in seeing whether we could add value to these. In particular, could chitin (the biopolymer in the shells of crustaceans) be depolymerized under green conditions and produce useful compounds? We also wanted to keep things cheap and simple, therefore, we decided to look at reactions of chitin and chitosan in water using commercially available catalysts. We found that the results with chitosan were not that different to those that had been obtained using cellulose as a feedstock, namely, we obtained levulinic acid and 5-hydroxymethylfurfural as the primary products (Green Chemistry, 2012, 14, 1480-1487).  This gives me some hope that ocean-sourced biomass can be used as a feedstock in future biorefineries alongside land-sourced materials.
What do you see as the main challenges facing research in this area?
Industrial implementation of new, green ideas is of course important for the success of this field. However, this could be helped if more industries were a little more transparent and made us aware of their real problems. I think the ACS GCI pharmaceutical roundtable has helped green chemists at universities focus their attention on real rather than imagined problems. It would be great to see this approach extended to other industries including those where perhaps the beneficial role that green chemistry could play is perhaps less obvious e.g. food industry and mining industry. Also, collaboration across the sub-disciplines is really important for the development of this field.  There are some problems here, for example, the units and language used by chemical engineers is different to that used by chemists – so we need to make an effort and be patient with each other in order to solve important problems and achieve our goals.
Where do you see the field of Green Chemistry being in 5 or 10 years time?
I am an optimist and see the field growing enormously and becoming a global endeavor. I see more collaborations across disciplines and the establishment of worldwide research networks to tackle some of the key problems of sustainability such as universal access to a clean water supply.
And finally…
If you could not be a scientist, but could be anything else, what would you be?
I love music. At high school and as an undergraduate, I sang in a band. I don't think I would have had what it takes to do that for a living but I would have liked to be involved behind the scenes in the music industry or be a promoter of shows and concerts or an event planner.
Take a look at a couple of Fran's recent Green Chemistry articles – free to access until the 8th August:
Hydrolysis of chitosan to yield levulinic acid and 5-hydroxymethylfurfural in water under microwave irradiation, Khaled W. Omari, Jessica E. Besaw and Francesca M. Kerton, Green Chem., 2012, 14, 1480-1487
Synthesis of Pd nanocrystals in phosphonium ionic liquids without any external reducing agents, Hassan A. Kalviri and Francesca M. Kerton, Green Chem., 2011, 13, 681-686
Keep up-to-date with the latest content in Green Chemistry by registering for our free table of contents alerts.