Posted on behalf of Sarah Brown, web writer for RSC Advances
To state the obvious, Louis Braille was a bit of a legend. Taking an existing idea, developing and simplifying it, he enabled those with visual impairments another level of independence. What adds to his profile as genius is that he wasn't even appreciated in his own time.
The Braille system was based on a system known as 'night writing' invented by the fabulously titled Captain Charles Barbiere la Sierre for soldiers to communicate in the dark without having to turn on a light or talk. This comprised 12 dots in six rows, formed by indents into the back of a surface to create patterns of raised dots that could be scanned by touch. Louis Braille stripped this back to the system that we now recognise, of up to six dots in three rows. Apparently Barbiere took the hump at this and Braille's peers at the school for the blind where he taught were reluctant to take it up until after his death. I detect a hint of jealousy.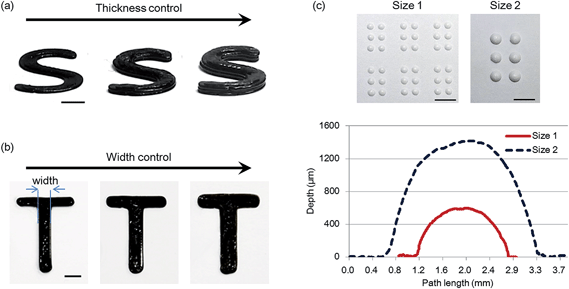 As Wongjin Jo and co-workers, authors of a paper recently published in RSC Advances, point out, characters in Braille generally come in only one font size, with no distinctions for titles or paragraph text. Furthermore, the characters can become more difficult to detect if repeatedly depressed. The recent surge in the capabilities of 3D printing can help overcome these limitations and more by adding the 'dots' to surfaces, rather than indenting them. Using a thermoplastic polymer, layers of dots can be added to generate characters of varying sizes and thicknesses on various surfaces, with the potential to offer visually impaired people the ability to add braille characters as they require and for the circumstances they personally encounter.
To protect the characters and improve their durability, the authors used a thermal reflow process to improve the surface smoothness and adhesion to the platform it was built on.
The flexibility of 3D printers and their expected drop in costs as they become more ubiquitous furthers the work of Louis Braille and opens the world up a little wider for those with visual impairments.
Interested in finding out more? Read the full article using the link below:
3D printed tactile pattern formation on paper with thermal reflow method, Wonjin Jo, Hyun Kim, Jeong Sim Lee, Jeon Ju Lee and Myoung-Woon Moon, RSC Advances, 2014, 4, 31764
---
| | |
| --- | --- |
| | Sarah Brown is a guest web-writer for RSC Advances. Sarah hung up her lab coat after finishing her PhD and post-doctorate in nanotechnology for diagnostics and therapeutics and now works in academic publishing. When not trying to explain science through ridiculous analogies, you can often find her crocheting, baking or climbing, but not all at once. |
---