This week's issue of Soft Matter is our 2019 Emerging Investigators issue, which contains articles from soft matter researchers in the early stages of their independent careers and is accompanied by an Editorial from Editor-in-Chief Professor Darrin Pochan. In order to celebrate this issue, we are delighted to feature the profile of Professor LaShanda Korley, who published in our 2017 Emerging Investigators issue. Below, LaShanda discusses her research from the issue and how it fits into her overall research interests.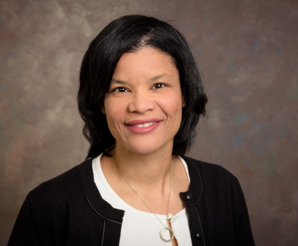 "Biomimicry is the underlying theme of my research program. We apply bio-inspired principles towards the design of responsive and mechanically-tunable polymeric systems.  This strategy is highly interdisciplinary, integrating many aspects of soft matter chemistry, physics, biology, and engineering.   Soft Matter is an ideal publication platform for this research, from the unique scope of the journal to the breadth of reviewer expertise. In the 2017 Emerging Investigator issue, hygromorphic, bilayer actuator composites inspired by seed pods were highlighted, combining concepts of interfacial assembly, transport, and manufacturing in active and passive soft components.1 This fundamental investigation was translated to the design of hygromorphic materials with aligned, active elements for controlled actuation.2 Other biomimetic avenues explored by my research team have also been published in Soft Matter, including peptide hybrid materials,3 templating in multilayered films4, and molecular gel assembly in polymer composites.5  As Director of the NSF PIRE: Bio-inspired Materials and Systems, I also lead an interdisciplinary team of US and Swiss researchers that are inspired by natural materials, such as the sea cucumber, caddisfly silk, and the extracellular matrix, towards the design of dynamic and tunable materials for soft robotics."
Read LaShanda's Soft Matter papers below!
1. Tunable hygromorphism: structural implications of low molecular weight gels and electrospun nanofibers in bilayer composites Soft Matter, 2017, 13, 283-291 (Emerging Investigators 2017 Issue)
2. Programming shape and tailoring transport: advancing hygromorphic bilayers with aligned nanofibers Soft Matter, 2017, 13, 5589 – 5596
3. Enhanced mechanical pathways through nature's building blocks: amino acids Soft Matter, 2012, 8, 11431-11442
4. Thin film confinement of a spherical block copolymer via forced assembly co-extrusion Soft Matter, 2013, 9, 4381-4385
5. Mechanical enhancement via self-assembled nanostructures in polymer nanocomposites Soft Matter, 2011, 7, 2449 – 2455
These papers are all currently FREE to read and download until 20th March
Biography
LaShanda T.J. Korley recently joined the Departments of Materials Science and Engineering, and Chemical and Biomolecular Engineering at the University of Delaware as a Distinguished Associate Professor.  Previously, she held the Climo Associate Professorship of Macromolecular Science and Engineering at Case Western Reserve University, where she started her independent career in 2007. Her research program involves utilizing design rules from Nature in the development of mechanically-enhanced and tunable materials. She is the PI of the NSF PIRE: Bio-inspired Materials and Systems.
She received a B.S. in both Chemistry & Engineering from Clark Atlanta University, and a B.S. in Chemical Engineering from the Georgia Institute of Technology in 1999.  Dr. Korley completed her Ph.D. at MIT in Chemical Engineering and the Program in Polymer Science and Technology in 2005. LaShanda Korley was a Provost's Academic Diversity Postdoctoral Fellow at Cornell in the Department of Chemical and Biomolecular Engineering.