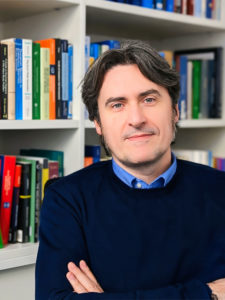 Professor Roberto Cerbino is a Professor of Experimental Soft Matter Physics at the University of Vienna, Austria. Before joining in 2021, he held a tenure for 14 years at the Faculty of Medicine of the University of Milan, Italy. Roberto's research encompasses the structure, dynamics, rheology, and instabilities of active and passive complex fluids, with a particular emphasis on colloidal and cellular collectives. He is credited with inventing Differential Dynamic Microscopy (DDM), a technique that utilizes optical microscopy to extract multi-scale activity in complex fluids and biological systems. In addition to DDM, he employs a range of cutting-edge optical techniques and image analysis methods to gain in-depth insights into the behaviour of soft materials.
Professor Cerbino has also given his insight and thoughts on the future of the soft matter field and the role of Soft Matter:
At a time when sustainability is of utmost importance, scientists from all disciplines are intensifying their efforts to preserve our planet and its invaluable resources. A significant part of this global dialogue revolves around soft matter, encompassing a broad range of materials present in our daily lives. Taking action toward the biocompatible, sustainable, and eco-friendly production, use, and disposal of soft materials, such as developing biodegradable alternatives to conventional plastics or designing energy-efficient processes for the production of detergents, paints, and coatings, is essential for creating a better future. Facing all these challenges requires merging knowledge from different disciplines in an endeavor well-suited to the collaborative spirit inherent in the community of soft matter scientists.
Along a similar line of thought, soft matter science also offers a unique interdisciplinary lens to unravel biological systems. These insights range from the microscopic biomechanics and dynamics of cell membranes, DNA, and proteins, to larger-scale phenomena such as the behaviors of cytoskeletal filaments, the mechanics of tissues, and the flow of blood. Looking ahead, I expect that the role of soft matter in understanding these and numerous other biological systems will only gain importance. This could also involve developing new therapeutic approaches based on soft matter principles for targeted drug delivery or for designing biomimetic materials to be used in regenerative medicine. Therefore, continued interdisciplinary research and collaboration in the field of soft matter science will be essential for future breakthroughs in biology and medicine.
Finally – and strongly influenced by my own approach to soft matter science – I view the creation of innovative methods and technologies as vital in pushing the boundaries of what is possible and attainable, particularly in terms of accessible spatial and temporal scales. In this area, too, the continuous discussion between different disciplines remains highly essential.
As a hub for these types of collaborative endeavors, Soft Matter has the potential to lead the way, being an established, reliable, and powerful platform for dialogue, research dissemination, and increased visibility of interdisciplinary research. As an Associate Editor, I'm fully committed to using my role effectively to help navigate us toward these exciting opportunities.
Read Professor Cerbino's recent Soft Matter articles
Deformation profiles and microscopic dynamics of complex fluids during oscillatory shear experiments
Paolo Edera, Matteo Brizioli, Giuliano Zanchetta, George Petekidis, Fabio Giavazzi and Roberto Cerbino
Soft Matter, 2021, 17, 8553-8566
Disentangling collective motion and local rearrangements in 2D and 3D cell assemblies
Roberto Cerbino, Stefano Villa, Andrea Palamidessi, Emanuela Frittoli, Giorgio Scita and Fabio Giavazzi
Soft Matter, 2020, 16, 3550-3559
Professor Cerbino's favourite recent Soft Matter articles
Professor Cerbino and Professor Wu have selected some recent publications in Soft Matter that they has found particularly interesting or insightful. These articles are all free to read until 31 August 2023.
Physics of smart active matter: integrating active matter and control to gain insights into living systems
Herbert Levine and Daniel I. Goldman
Soft Matter, 2023, 19, 4204-4207
Non-linear properties and yielding of enzymatic milk gels
Julien Bauland, Mathieu Leocmach, Marie-Hélène Famelart and Thomas Croguennec
Soft Matter, 2023, 19, 3562-3569
Green, tough and highly efficient flame-retardant rigid polyurethane foam enables by double network hydrogel coatings
Yubin Huang, Jinming Zhou, Ping Sun, Lei Zhang, Xiaodong Qian, Saihua Jiang and Congling Shi
Soft Matter, 2021, 17, 10555-10565
All these articles are currently FREE to read until 31 August 2023!