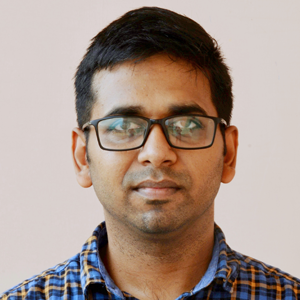 Rahul Mangal is presently an Associate Professor in the department of Chemical Engineering at Indian Institute of Technology (IIT) Kanpur. He received his PhD in 2016 from Cornell University on structural and dynamical investigation of nanoparticle polymer composites. Subsequently he did a Post Doc at University of Wisconsin Madison. After joining IIT Kanpur in 2017, his research group has been focusing on experimental investigation of several fundamental problems in areas such as Active Soft Matter, Polymers and their composites and Liquid Crystals. Rahul's research contributions have been rewarded with several accolades including Indian National Academy of Engineering (INAE) Young Engineering Award 2020 and 1979 Batch Young Researcher fellowship by IIT Kanpur. Additionally, he serves on the Editorial Advisory Board of ACS Applied Polymer Physics.
Find more about Rahul's work via
Twitter: @mangalr
Read Rahul Mangal's Emerging Investigator article http://xlink.rsc.org/?doi=10.1039/D3SM00228D
How do you feel about Soft Matter as a place to publish research on this topic?
Ever since I started my academic career, I have held Soft Matter in high esteem because of its broad readership and interdisciplinary authorship in fields such as colloids and interfaces, polymers, emulsions etc. Furthermore, Soft Matter is known to have a rigorous peer-review process enabling it to publish high-quality research which enjoys a wide reach and strong reputation in the scientific community. For these reasons I strongly consider Soft Matter to be an excellent platform to showcase our novel findings of deforming active motion of droplets in a viscoelastic environment.
What aspect of your work are you most excited about at the moment and what do you find most challenging about your research?
Artificially propelling droplets are very exciting active soft matter systems which have become a captivating subject of scientific interest due to their potential to emulate biological motion and function as advanced cargo transporters. However, the current understanding of their motion is mostly confined to uncomplicated Newtonian environments. Presently, we are excited that through comprehensive investigations, our recent research has delved into the behaviour of these droplets in non-Newtonian environments leading to the discovery of several novel phenomena, including the deforming active motion presented in this study. Considering that these non-equilibrium systems are rather new, several fundamental aspects about their behaviour are not known yet, therefore, the understanding of the complex underlying physics behind their intriguing phenomena remains a major challenge.
In your opinion, what are the most important questions to be asked/answered in this field of research?
In my opinion, a crucial question that still requires an answer is how we can achieve complete command over artificial swimmers to utilize them as efficient cargo carriers and diagnostic agents in microscopic environments. To tackle this issue, current scientific endeavours are focused on comprehending the behaviour of these swimmers in diverse and intricate settings, with the ultimate goal of enabling their deliberate navigation.
Can you share one piece of career-related advice or wisdom with other early career scientists?
When starting out as a new academic, it is common to receive numerous advice from various sources. However, the most effective approach is to stay true to our own interests and zeal while keeping things uncomplicated. Initiating a new research group and exploring uncharted territory can be daunting, but perseverance typically pays off in the end.