It is with great pleasure that we announce Xuanhe Zhao (MIT) as the recipient of the 2022 Soft Matter lectureship.
This award, now in its fourteenth year, honours an early-career researcher who has made significant contribution to the biomaterials field. The recipient is selected by the Soft Matter Editorial Board from a list of candidates nominated by the community.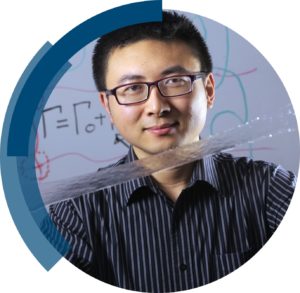 Xuanhe Zhao is a Professor of Mechanical Engineering and Civil and Environmental Engineering at MIT. The mission of Zhao Lab is to advance science and technology on the interfaces between humans and machines for addressing grand societal challenges in health and sustainability. A major focus of Zhao Lab's current research is the study and development of soft materials and systems. Dr. Zhao is the recipient of the NSF CAREER Award, ONR Young Investigator Award, SES Young Investigator Medal, ASME Hughes Young Investigator Award, Adhesion Society's Young Scientist Award, Materials Today Rising Star Award, and Clarivate Highly Cited Researcher. Six patents from Zhao Lab have been licensed by established and start-up companies and contributed to widely used medical devices such as hydrogel-elastomer tissue phantoms.
To learn more about Xuanhe's research have a look at some of his recent publications in Soft Matter, these are FREE to access until 15 August. You can also check out articles from our previous lectureship winners in our lectureship winners collection.
An extreme toughening mechanism for soft materials
Shaoting Lin, Camilo Duque Londono, Dongchang Zheng and Xuanhe Zhao
Soft Matter, 2022, DOI: 10.1039/D2SM00609J
Ideal reversible polymer networks
German Alberto Parada and Xuanhe Zhao
Soft Matter, 2018, 14, 5186-5196
Kirigami enhances film adhesion
Ruike Zhao, Shaoting Lin, Hyunwoo Yuk and Xuanhe Zhao
Soft Matter, 2018, 14, 2515-2525
Avoiding the pull-in instability of a dielectric elastomer film and the potential for increased actuation and energy harvesting
Shengyou Yang, Xuanhe Zhao and Pradeep Sharma
Soft Matter, 2017, 13, 4552-4558
We would like to thank everybody who nominated a candidate for the 2022 Soft Matter Lectureship. The Editorial Board had a very difficult task in choosing a winner from the many excellent and worthy candidates.
Please join us in congratulating Xuanhe on winning this award!