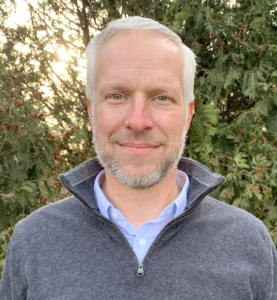 Professor Alfred Crosby has been appointed as the new Editor-in-Chief of Soft Matter, taking over from Professor Darrin Pochan, after serving as an Associate Editor since 2017. Alfred J. Crosby is a Professor of Polymer Science & Engineering at the University of Massachusetts Amherst and Co-Director of the Center for Evolutionary Materials. His research interests lie generally in bio-inspired materials mechanics, especially topics including adhesion, nanoparticle assemblies, gels, thin films, fracture, hierarchical materials, and elastic instabilities.  He has received numerous awards, including being a Fellow of the National Academy of Inventors and the American Physical Society, and his research has been covered extensively in the popular media. Read more on his group webpage.
What attracted you to pursue a career in soft materials and how did you get to where you are now?
Like many soft matter researchers, my career path was not by design. However, I clearly recall sitting in an undergraduate course and having the professor say that polymers weren't worth studying since they follow no systematic rules for materials – I personally took this as a challenge! Soft matter, as we know, follows a beautiful, diverse set of rules and mechanisms, and its diversity provides its strength in addressing some of the most critical problems in our society. 
Embracing this diversity and learning how to communicate across the many fields that intersect in soft matter has been a key part of my career. It is one of the aspects of this field that I love the most – that I can learn evolutionary biology while also learning the latest ideas behind control theory in robotics. Understanding how to build bridges across fields with the concepts of soft matter has been key to learning new ideas that can significantly advance our fundamental knowledge within the field.
What are your thoughts on the future of the soft matter field?
The soft matter field is growing faster and larger than anyone may have imagined a decade or two ago. Scientists and engineers at the heart of this field have made great strides in the sophistication and efficiency with which they can address challenges – from helping to package and deliver vaccines to designing robotic devices that manoeuvre with care and agility. Our ability to control structure-property-performance in soft systems is impressive, and the future is bright for continued innovation and step-change discoveries. However, soft matter is also at the heart of many of the most critical global challenges – reducing waste, developing a circular materials economy, decreasing the consumption of non-renewable resources, enhancing renewable energy sources, and providing clean water, nutrition, and resources for healthy living. Our field is poised to play a leading role in addressing these challenges – especially with its strong connection to biology and the materials and mechanisms that Nature already uses.
What role do you think the journal Soft Matter can play in this?
I am excited for Soft Matter to play a central role in engaging the community and helping to share its knowledge to not only those "in the field" but even more importantly, to those in adjacent fields and beyond. Soft Matter's roots are in providing a forum to encourage communication of complex, multidisciplinary concepts in a way that opens doors for new discoveries. We are excited to continue innovating to broaden this forum and to open it to all scientists and engineers. We are committed to increasing access in an inclusive and equitable manner. Soft Matter will continue to be "the home" for the most impactful scientific advances and technological discoveries in soft matter, and we look forward to working with the entire community to provide the most welcoming, efficient, and scientifically thorough venue for sharing solutions to global challenges.
What are you most looking forward to in your new role as Editor in Chief for Soft Matter?
I am most excited to listen and talk with researchers around the globe in the field of soft matter. I want to hear how Soft Matter can be improved to enhance the positive impact that our field has on addressing global challenges, and I want to be a leader that helps to make these ideas a reality.
Why do you feel that researchers should choose to publish their work in Soft Matter?
Soft Matter played a leading role in defining the field that we know today, and our Editorial Board is committed to maximizing the impact that it will continue to have in the next decade and beyond. Our Editorial Board and staff work together to ensure that we are publishing the most significant advances in a timely manner. Together with our strong community of reviewers, we help authors convey the essential lessons that their research results reveal and to ensure that these lessons will be transferable across a broad, multidisciplinary audience.