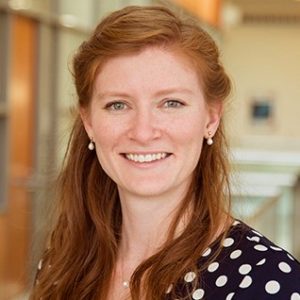 Shelby Hutchens is an Assistant Professor of Mechanical Science and Engineering. Her research interests span from ultrasoft polymeric materials characterization to plant-inspired motion. She received all her degrees in Chemical Engineering, Ph.D. and M.S. from Caltech and B.S. from Oklahoma State. She received an NSF CAREER award in 2017. She can be found on Twitter @ShelbyHutchens.
Read Shelby's Emerging Investigator article "On the relationship between cutting and tearing in soft elastic solids" and check out all of the 2021 Soft Matter Emerging Investigator articles here.
How do you feel about Soft Matter as a place to publish research on this topic?
Many excellent articles on soft fracture find their way into Soft Matter. The community of researchers interested in this topic really seems to keep an eye on the journal, so I think it's a great place for our findings relating cutting and tearing in elastomeric solids. It's a particularly useful venue when results seem to bridge subfields, for instance, continuum mechanics and macromolecular science. 
What aspect of your work are you most excited about at the moment and what do you find most challenging about your research?
For myself, I am excited about finally starting to understand how various material and geometric elements contribute to an overall failure response in soft solids. This isn't to say that I think this problem is fully solved or that others did not understand much of it already. I'm still somewhat new to failure so it's been very rewarding to get to the point that I can describe phenomena in my own words and start to probe new hypotheses. The most challenging thing about my research is that the more I do it, the less I find that I actually know. It can be exciting as well as daunting. 
In your opinion, what are the most important questions to be asked/answered in this field of research?
I don't feel qualified to make any judgement since so many questions can seem incorrectly important or unimportant at any given time. With respect to soft solid fracture, I do think many interesting, fundamental, and likely important details remain to be understood in the failure of even simple, homogeneous solids with respect to predicting time-dependence, the effect of geometry (like needle insertion and puncture), and failure initiation, for example, from macromolecular architecture. Complications only increase when inhomogeneities and hierarchies come into play, as is the case in soft biological tissue. 
Can you share one piece of career-related advice or wisdom with other early career scientists?
Even if you start behind or are a bit slow, just keep at it. You've probably heard the saying that Rome wasn't built in a day, but even a single neighborhood wasn't built in a day. And neighborhoods have a very meaningful impact on those living in them.