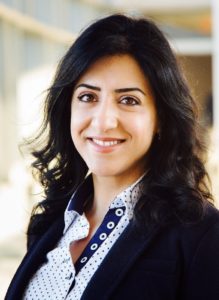 Rana Ashkar is an assistant professor at Virginia Tech, where she joined the Physics Department in 2018. Prior to her current appointment, she held a Clifford G. Shull Fellowship at Oak Ridge National Lab, preceded by a joint postdoc position at NIST and the University of Maryland. Dr. Ashkar has a Ph.D. in experimental physics from Indiana University. Her doctoral work was recognized by the Esther L. Kinsley dissertation award. Her research group focuses on biophysical investigations of model cell membranes, with specific emphasis on membrane mechanics, membrane-protein interactions, and dynamic membrane responses to interfacial and environmental cues. Besides scholarly achievements, Dr. Ashkar is committed to diversity and inclusion in STEM and has been an active member on several committees promoting a better environment for underrepresented and marginalized groups in science. She was the founder and first chairperson of the "Women in Neutron Sciences" program at Oak Ridge National Lab. She recently served as the Chair of the APS Climate Site Visits Program, the flagship program of the APS Committee on the Status of Women in Physics. Currently, she serves on the executive committee of the APS Division of Biological Physics (DBIO) and one of her priorities is to establish programs to empower marginalized groups and ensure equitable recognition of their contributions.
Read Rana's Emerging Investigator article "The dynamic face of liquid membranes" and check out all of the 2021 Soft Matter Emerging Investigator articles here.
How do you feel about Soft Matter as a place to publish research on this topic?
Soft Matter provides an excellent platform where research areas at the intersection of physics, biology, and chemistry are best showcased to a broad readership.
What aspect of your work are you most excited about at the moment and what do you find most challenging about your research?
The most exciting part of being a scientist and a faculty member is the role we play in the education and scientific development of graduate and undergraduate students and their engagement in research questions that are central to health, societal needs, and technological developments.
In your opinion, what are the most important questions to be asked/answered in this field of research?
The dynamics of cell membranes are central to life but there are still major gaps in our understanding of membranes "in action", particularly on the nanoscale where vital biological functions take place. This includes protein-membrane interactions, cell signaling, and even viral budding. Developing tools, theories, and simulations that fill these knowledge gaps will be crucial to our understanding of cellular functions and how we utilize this knowledge in therapeutic discoveries and biotechnological advances.
Can you share one piece of career-related advice or wisdom with other early career scientists?
My advice for early career scientists, especially graduate students and postdocs, would be to follow their passion, to persist, and not be afraid to challenge existing dogmas. I would also encourage them to be mindful and adopt inclusive research practices that would help create a better science environment.