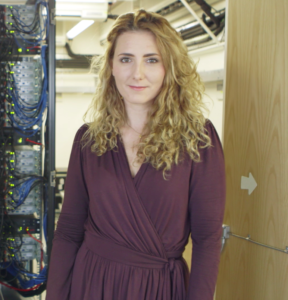 Andela is an Associate Professor of Biological and Soft Matter Physics and University College London. She is leading a computational group at the intersection of soft matter physics and life sciences. Her research is focused on understanding molecular self-organisation far from thermodynamic equilibrium: how macromolecules self-organise into functional machines that produce work underpinning life, and how these processes can go wrong, leading to pathologies. Andela obtained her PhD from Columbia University with Angelo Cacciuto, followed by a postdoc with Daan Frenkel at the University of Cambridge, supported by an HFSP Fellowship. Among other awards, she is a recipient of the ERC Starting Grant, EMBO Young Investigator Prize, and Royal Society University Research Fellowship. She can be found on Twitter @SaricLab.
Read Andela's Emerging Investigator article "Modelling the dynamics of vesicle reshaping and scission under osmotic shocks" and check out all of the 2021 Soft Matter Emerging Investigator articles here.
How do you feel about Soft Matter as a place to publish research on this topic?
I love Soft Matter, I've been publishing in it since my early PhD years, and am continuing to do so now when I have my own group. Soft matter research clearly interfaces with many disciplines, from materials to life sciences, but it's really important to have a solid journal where soft matter research can be published in its own right.  Funnily enough, I wrote a paper for the "Emerging Investigators" issue when my PhD advisor was named one, so continuing this tradition feels really special to me (I also hope my students are reading this!).
What aspect of your work are you most excited about at the moment and what do you find most challenging about your research? And, in your opinion, what are the most important questions to be asked/answered in this field of research?
I am very excited about self-assembly, which is a traditional field of soft matter, but now driven out of equilibrium, such that it can achieve functionalities similar to those observed in living systems. Along the same lines, I'm also very excited about soft matter concepts studied in vivo; in the context of living cells and tissues. I think it's time to go live.
Can you share one piece of career-related advice or wisdom with other early career scientists? To me absolutely the most important part of a scientific career are people — your mentors, collaborators, and your mentees. They are the ones who will make this career enjoyable and new exciting things possible. My advice is to pay attention to the human side when choosing people you will work with or institutions you will join.