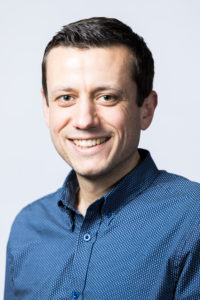 Timm Krüger is Reader in Chemical Engineering at the University of Edinburgh. His group investigates microfluidic systems and blood flow via modelling and computer simulations. He can be found on Twitter @timmkrueger.
Read Timm's Emerging Investigator article "Emergent cell-free layer asymmetry and biased haematocrit partition in a biomimetic vascular network of successive bifurcations" and check out all of the 2021 Soft Matter Emerging Investigator articles here.
How do you feel about Soft Matter as a place to publish research on this topic?
Soft Matter is an excellent platform for interdisciplinary research as the journal cuts across traditional disciplines.
What aspect of your work are you most excited about at the moment and what do you find most challenging about your research?
The most challenging aspect is to perform research with collaborators in biology and medicine to address topical problems that cannot be answered within a single discipline.
In your opinion, what are the most important questions to be asked/answered in this field of research?
A big open question is how the particulate nature of blood is affecting organ function and cancer development.
Can you share one piece of career-related advice or wisdom with other early career scientists?
If you could write two mediocre papers or one excellent paper, always write the excellent paper.