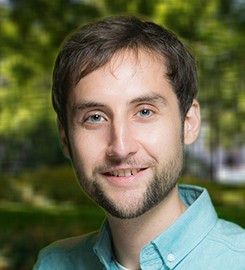 Ryan McGorty received his bachelor's degree in physics at the University of Massachusetts Amherst and his PhD in physics at Harvard University. Following a postdoctoral appointment at the University of California San Francisco, he joined the faculty of the Physics and Biophysics Department at the University of San Diego. The research of his undergraduate-driven lab focuses on the development of new microscopy techniques, the rheology of colloidal suspensions, and transport in biomaterials. He can be found on Twitter @ryanmcgorty.
Read Ryan's Emerging Investigator article "Anomalous and heterogeneous DNA transport in biomimetic cytoskeleton networks" and check out all of the 2021 Soft Matter Emerging Investigator articles here.
How do you feel about Soft Matter as a place to publish research on this topic?
I feel that Soft Matter is an excellent journal to read about the latest soft matter research and to publish my lab's work. Soft Matter is where I find the most interdisciplinary and interesting work on biomaterials and biological aspects of soft materials.
What aspect of your work are you most excited about at the moment and what do you find most challenging about your research?
At the moment, I am most excited about employing new optical microscopy and image analysis techniques to investigate soft materials. A challenge in this work is sorting through and analyzing the mountains of imaging data one can rapidly acquire with current techniques.
Can you share one piece of career-related advice or wisdom with other early-career scientists?
One piece of advice I have for other early career scientists working in the field of soft matter is to look to adjacent fields for new techniques and methods that might be applicable to your research. I find that Soft Matter is an excellent place to both find and publish new techniques.