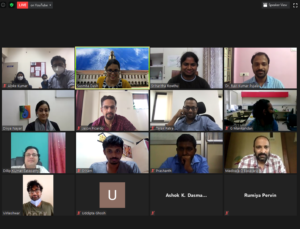 At the beginning of December, the Soft Matter: Young Investigators Meeting was held (virtually); organised for the soft matter community in India by Susmita Dash, Aloke Kumar, Basavaraja Gurappa and Dillip Satapathy. Soft Matter Associate Editor Sanat Kumar gave a keynote talk on how problem solving has defined his career and provided valuable insights for young researchers. The meeting included a poster session with prizes sponsored by Soft Matter.
We are pleased to announce below the winners of the poster session:
Merin Jose – Evaporative self-assembly of binary mixture of soft colloids
G Manikandan- Rapid Moisture Responsive Silk Fibroin Actuators
Anuj Chhabram – Electrostatic interactions of the Polyelectrolyte polymers attached to the spherical surface
Congratulations, from all of us at Soft Matter!