We are pleased to introduce the Soft Matter Outstanding Student Paper Award. This new annual award recognises outstanding work published in the journal, for which a substantial component of the research was conducted by a student. Read below for more information.
Our 2019 Winner 
The inaugural recipient of the 2019 Soft Matter Outstanding Student Paper award is Ms Morgan Barnes, PhD student within the Verduzco polymer group at Rice University, for her contributions towards the paper titled 'Direct shape programming of liquid crystal elastomers' (DOI: 10.1039/C8SM02174K).
This paper is free to read until 1st July – click here to access!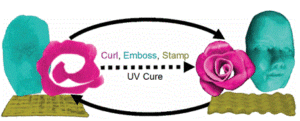 Liquid crystalline elastomers (LCEs) are shape-shifting materials promising for applications ranging from biomedical devices to soft-robotics. However, programming complex (non-planar) shape changes has been a challenge. In this work, we took advantage of the double network structure of LCEs to achieve complex shape changes by balancing the first and second network crosslink densities. The initial shape is defined by the mold during the first network cure and the shape-change is programmed by mechanically deforming the LCE into the desired shape prior to the second network cure. This enabled us to create a variety of complex shape changes not previously possible, such as an LCE sheet that reversibly curls into a flower and another that morphs into the broad and sharp features of a face.
This work has previously featured in Chemistry World – read the full article here!
Eligibility
In order to be eligible for this award, the nominee must:
Have been a student at the time the research was conducted.

Be first author of a research article published in 2019 in Soft Matter.
Selection Process
In order to choose the winner of the 2019 Outstanding Student Paper Award, a shortlist of articles that were published throughout the year were selected by the editorial office and then subsequently assessed by the journal's Editorial Board members. The winner was selected based upon the significance, impact and quality of the research.
Prize
The winner of the Outstanding Student Paper Award will receive an engraved plaque and a travel bursary of £500 to use towards a meeting of their choice. 
***
To have your paper considered for the 2020 Soft Matter Outstanding Student Award, simply indicate upon submission if the first author of the paper fulfils this criteria.