It is with great pleasure that we announce Dr Valeria Garbin (Delft University of Technology, Netherlands) as the recipient of the 2020 Soft Matter Lectureship.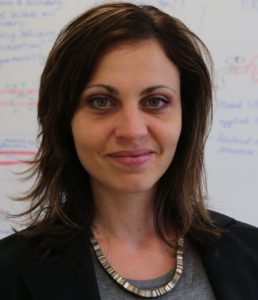 Valeria Garbin studied Physics at the University of Padua and received her PhD from the University of Trieste in Italy. She was a Rubicon fellowship in the Physics of Fluids group at the University of Twente, and a postdoc at the University of Pennsylvania, before starting her research group at Imperial College London in 2012. She joined the Department of Chemical Engineering at the Delft University of Technology in 2019.
Her current research focuses on soft materials under flow and deformation, particularly the extreme deformation conditions of cavitation, which are central to biomedical ultrasound and bioprocessing; and of processing flows used to create advanced materials and formulated products.
Valeria has been awarded an ERC Starting Grant, was the 2018 recipient of the McBain medal (RSC/SCI), and has been featured in "100 Women of Chemistry" by the RSC.
Learn more about Valeria's research by reading her papers in Soft Matter:
Polymer nanocomposite capsules formed by droplet extraction: spontaneous stratification and tailored dissolution
Christiana E. Udoh, Valeria Garbin and João T. Cabral
Soft Matter, 2019, 15, 5287-5295
High-frequency linear rheology of hydrogels probed by ultrasound-driven microbubble dynamics
Akaki Jamburidze, Marco De Corato, Axel Huerre, Angelo Pommella and Valeria Garbin
Soft Matter, 2017, 13, 3946-3953
Shape oscillations of particle-coated bubbles and directional particle expulsion
Vincent Poulichet, Axel Huerre and Valeria Garbin
Soft Matter, 2017, 13, 125-133
Surface waves on a soft viscoelastic layer produced by an oscillating microbubble
Marc Tinguely, Matthew G. Hennessy, Angelo Pommella, Omar K. Matar and Valeria Garbin
Soft Matter, 2016, 12, 4247-4256
Near field capillary repulsion
Lu Yao, Lorenzo Botto, Marcello Cavallaro, Jr, Blake J. Bleier, Valeria Garbin and Kathleen J. Stebe
Soft Matter, 2013, 9, 779-786
These articles are free to read until 31 March 2020.
Thank you to everyone who nominated a candidate for the Lectureship; we received many excellent nominations, and the Editorial Board had a difficult task in choosing between some outstanding candidates.
Please join us in congratulating Valeria on winning this award!