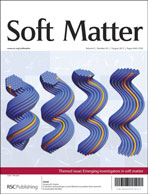 The 2013 Soft Matter Emerging Investigators themed issue has been published. This issue highlights some of the current up-and-coming researchers in soft matter science and showcases the research that is making them leading investigators in the field. Liz Dunn and Michael Rubinstein, Chair of the Editorial Board, introduce the issue in their editorial. The full issue can be found here.
The Emerging Investigators themed issue features over 60 Communications, Papers, Reviews and Highlights, including:
Reviews:
Cell confinement: putting the squeeze on the nucleus
Marie Versaevel, Maryam Riaz, Thomas Grevesse and Sylvain Gabriele
Self-assembly of nanoparticles adsorbed on fluid and elastic membranes
Anđela Šarić and Angelo Cacciuto
Emerging Areas:
The influence of shape anisotropy on the microstructure of magnetic dipolar particles
Sofia Kantorovich, Elena Pyanzina and Francesco Sciortino  
Highlights:
Electrochemical biocomputing: a new class of molecular-electronic logic devices
Yongmei Jia, Ruixue Duan, Fan Hong, Boya Wang, Nannan Liu and Fan Xia  
Papers:
Do hierarchical structures assemble best via hierarchical pathways?
Thomas K. Haxton and Stephen Whitelam
Myosin II does it all: assembly, remodeling, and disassembly of actin networks are governed by myosin II activity
Yaron Ideses, Adar Sonn-Segev, Yael Roichman and Anne Bernheim-Groswasser
Frustration and packing in curved-filament assemblies: from isometric to isomorphic bundles
Gregory M. Grason
To keep up-to-date with all the latest research, sign-up to our RSS feed or Table of contents alert.