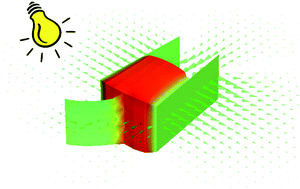 A Soft Matter paper has been highlighted on the science news website Science Daily. In the Soft Matter paper (Designing maneuverable micro-swimmers actuated by responsive gel) Alexander Alexeev and co-workers at Georgia Institute of Technology, USA, design a simple maneuverable micro-swimmer that can self-propel and navigate in microfluidic channels. The micro-swimmer is designed using computational modelling.
You can read the write up in Science Daily here:
Microswimmers: Micron-Scale Swimming Robots Could Deliver Drugs and Carry Cargo Using Simple Motion
To keep up-to-date with all the latest research, sign up for the Soft Matter e-Alert or RSS feeds or follow Soft Matter on Twitter or Facebook.