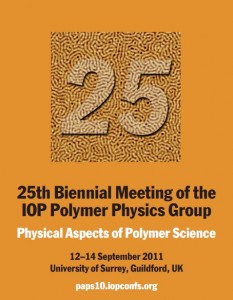 This week saw the 25th biennial meeting of the UK's Polymer Physics Group (PPG) take place at the University of Surrey. The PPG is part of the Institute of Physics and has strong ties with the Royal Society of Chemistry. This year celebrates the 25th meeting of the group and is also the 50th anniversary of the UK's first ever meeting on the physics of polymers, which was held in Bristol in 1961. For those interested the proceedings of that first meeting were published in the British Journal of Applied Physics.
Along with a full oral and poster programme and invited talks from Olli Ikkala, Cait MacPhee, William Koros and Dieter Richter, a number of prizes were awarded at the conference. Prof. Tom McLeish from the University of Durham was awarded the Founders Prize. He is the sixth recipient of this award, which is given to a scientist who has made an outstanding contribution to Polymer Physics in the UK or Ireland.
Katherine Thomas (me!) was awarded the Students Prize for her paper on the non-equilibrium behaviour observed in thin polymer films published in Phys. Rev. E. This work looks at the interplay of the polymer film deposition procedure, the resulting non-equilibrium behaviour and the relaxation towards thermal equilibrium. A follow up paper to this work on the direct measurement of stresses in spin-cast films was recently published in Soft Matter. A previous post on this topic can be found here.
The exchange lecture with the American Physical Society Division of Polymer (DPoly) was given by Bradley Olsen. Proteins and enzymes are interesting materials for photovoltaics, catalysts and CO2 reduction and sequestration. Olsen is interested in incorporating proteins into materials so that they can be used in the above applications. He does this by forming protein-polymer diblock copolymers. These block copolymers can then be self-assembled enabling their structure to be easily controlled. His recent papers in Soft Matter can be found here and here.
The first place poster prize was awarded to Mike Smith at the University of Nottingham. Smith had three posters at the conference on 'Optical properties of large amyloid spherulites', ' Stretching dense colloidal suspensions: from flow to fracture' and 'Cracking in thin films of colloidal particles on elastomeric substrates'.
Congratulations to all the prize winners. The conference was very successful and highly enjoyable. It was one of the best conferences I have been to (and not just because they gave me a prize). I would highly recommend that those interested attend their next meeting in two years time.