Researchers use peanut butter to draw analogies between colloidal glassy pastes and metallurgy. The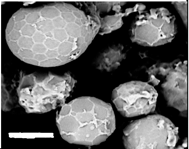 nutty spread was shown to undergo plastic deformations – similar to 'work hardening' observed in the strengthening of metals.
Smooth peanut butter exhibited very slow dynamics and non-linear rheological properties after constant shear rate experiments.
Read more here: Romaric R. R. Vincent and Peter Schurtenberger, Soft Matter, 2011, Advance Article, DOI: 10.1039/C0SM01256D, Communication. Article FREE until 4 March, 2011 at Soft Matter.