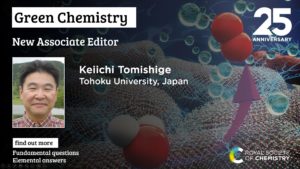 We are delighted to announce that Prof. Keiichi Tomishige (Tohoku University, Japan) has been appointed as a new Associate Editor in Green Chemistry.
Keiichi Tomishige received his B.S., M.S. and Ph.D. from the Graduate School of Science in the Department of Chemistry at The University of Tokyo. During his Ph.D. course in 1994, he moved to the Graduate School of Engineering in the same university as a research associate. In 1998, he became a lecturer, and then he moved to the Institute of Materials Science at the University of Tsukuba as a lecturer in 2001. Since 2004 he has been an associate professor at the Graduate School of Pure and Applied Sciences in the University of Tsukuba. Since 2010, he is a professor in the School of Engineering at the Tohoku University.
His research interests are the development of heterogeneous catalysts for: 1) production of biomass-derived chemicals, 2) non-reductive CO2 conversion with alcohols and amines, and 3) hydrogen production by reforming of biomass.
---
"I am very happy to continue working with the Editorial Team and to play a new role as an Associate Editor of Green Chemistry, and hope connecting to carbon neutrality and carbon recycling". – Keiichi Tomishige
---
Read some of Keiichi's Open Access papers in Green Chemistry:
Direct synthesis of polycarbonate diols from atmospheric flow CO2 and diols without using dehydrating agents
Yu Gu, Masazumi Tamura, Yoshinao Nakagawa, Kenji Nakao, Kimihito Suzuki and Keiichi Tomishige
Green Chem., 2021, 23, 5786–5796. DOI: 10.1039/d1gc01172c


.

Direct dimethyl carbonate synthesis from CO2 and methanol catalyzed by CeO2 and assisted by 2-cyanopyridine: a cradle-to-gate greenhouse gas emission study
Hajime Ohno, Mahdi Ikhlayel, Masazumi Tamura, Kenji Nakao, Kimihito Suzuki, Kentaro Morita, Yuzuru Kato, Keiichi Tomishige and Yasuhiro Fukushima
Green Chem., 2021, 23, 457–469. DOI: 10.1039/d0gc03349a
And have a look at his latest Critical Review in Green Chemistry:
Read more of Keiichi's Royal Society of Chemistry publications here.
---
Pease join us in welcoming Keiichi in his new role in Green Chemistry.