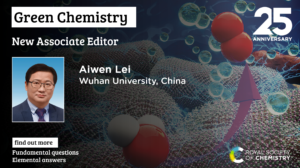 We are delighted to welcome Prof. Aiwen Lei (Wuhan University) as our newest Green Chemistry Associate Editor.
Aiwen Lei received his PhD degree in chemistry from the Shanghai Institute of Organic Chemistry in 2000 in the group of Prof. Xiyan Lu. In 2000 he moved as a postdoc to Pennsylvania State University and the group of Prof. Xumu Zhang, where he worked on asymmetric catalysis. This was followed by a second postdoctoral position in 2003 at Stanford University under the guidance of Prof. James P. Collman, where he worked on porphyrin catalysed asymmetric epoxidation.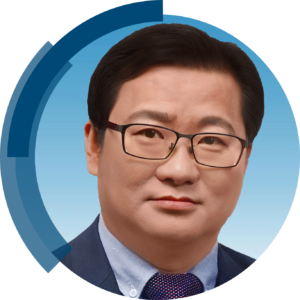 In 2005 he became Professor of Organic Chemistry at the College of Chemistry and Molecular Sciences, Wuhan University. In 2015 he was admitted as a Fellow of the Royal Society of Chemistry. He is currently serving as an Associate Dean of the Institute for Advanced Studies (IAS) at Wuhan University. He features on the Clarivate 2022 Highly Cited List.
His main research interests concern the development of oxidative coupling reactions, especially involving oxygen as the terminal oxidant, and mechanistic studies for in-depth understanding of chemical reactions. His most recent Green Chemistry paper concerns potassium persulfate-induced site-selective phenoxazination/phenothiazination of electron-rich anilines.
Please join us in welcoming Aiwen Lei!