We are delighted to announce that the Green Chemistry themed issue Marine-based Green Chemistry is now online and free to access until the end of January 2023.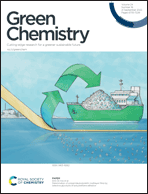 Sustainability is the color of Cyan: from the terrestrial green to the marine blue, our planet's finite resources must be not only preserved, but utilized in a sustainable way. We live on a blue planet with over two thirds of the surface covered in water. The oceans have the potential to provide resources, such as food, biopolymers to replace plastics, and minerals to replace mining, but this environment is also under threat from plastic, pollution, and CO2 levels.
Guest Edited by Professor Robin D. Rogers and Professor Francesca M. Kerton, this collection is dedicated to the sustainable development of ocean resources at the interface of green technology and the blue economy..
Read the full issue online
It includes:
Editorial
Marine-based green chemistry
Robin D. Rogers and Francesca M. Kerton
Green Chem., 2022, 24, 2265-2266. DOI: 10.1039/D2GC90018A
Critical Review
Progresses and future prospects in biodegradation of marine biopolymers and emerging biopolymer-based materials for sustainable marine ecosystems
François Samalens, Martin Thomas, Marion Claverie, Natalia Castejon, Yi Zhang, Thierry Pigot, Sylvie Blanc and Susana C. M. Fernandes
Green Chem., 2022, 24, 1762-1779. DOI: 10.1039/D1GC04327G
Tutorial Review
Recent progress on immobilization technology in enzymatic conversion of marine by-products to concentrated omega-3 fatty acids
Yi Liu and Deepika Dave
Green Chem., 2022, 24, 1049-1066. DOI: 10.1039/D1GC03127A
 Paper
Uncovering the potential of aqueous solutions of deep eutectic solvents on the extraction and purification of collagen type I from Atlantic codfish (Gadus morhua)
Meena Bisht, Margarida Martins, Ana C. R. V. Dias, Sónia P. M. Ventura and João A. P. Coutinho
Green Chem., 2021, 23, 8940-8948. DOI: 10.1039/D1GC01432C
Paper
Chitosan nanocrystals synthesis via aging and application towards alginate hydrogels for sustainable drug release
Tony Jin, Tracy Liu, Shuaibing Jiang, Davis Kurdyla, Brittney A. Klein, Vladimir K. Michaelis, Edmond Lam, Jianyu Li and Audrey Moores
Green Chem., 2021, 23, 6527-6537. DOI: 10.1039/D1GC01611C
We hope you enjoy reading the articles. Please get in touch if you have any questions about this themed collection or Green Chemistry.