Associate Editor, Elsje Alessandra Quadrelli has selected some outstanding research to share with you from Green Chemistry. Read them now for free until the end of March 2021!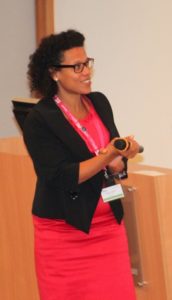 Alessandra is CNRS director of research in the "Surface organometallic chemistry" team of the C2P2 laboratory in Lyon (France). Her research in the C2P2 unit, under triple tutelage CNRS CPE and Université de Lyon 1, focuses on gaining molecular understanding of the interaction between organometallic precursors and solid surfaces, such as silica and more recently, metal organic frameworks and 2D supports, in route to heterogeneous catalysts and functional materials. As chairwoman of the Sustanability Chair of Chemical, Physics and Electronic Engineering School CPE Lyon, she teaches graduate and undergraduate courses and organizes the biyearly international conference "CO2 Forum" on large scale carbon dioxide utilisations".
She has coauthored over 65 papers, among which 2 reviews, 2 book chapters and 3 patents and has edited 1 book. She serves as referee and evaluator in several French and European instances.
Submit your research to Alessandra here
Read Alessandra's choices for free now:
Paper
Dehydra-decyclization of 2-methyltetrahydrofuran to pentadienes on boron-containing zeolites
Gaurav Kumar, Dongxia Liu, Dandan Xu, Limin Ren, Michael Tsapatsis and Paul J. Dauenhauer
Green Chem., 2020, 22, 4147-4160. DOI: 10.1039/D0GC00136H
Paper
Application of multifunctional silylenes and siliranes as universal crosslinkers for metal-free curing of silicones
Fabian A. D. Herz, Matthias Nobis, Daniel Wendel, Philipp Pahl, Philipp J. Altmann, Jan Tillmann, Richard Weidner, Shigeyoshi Inoue and Bernhard Rieger
Green Chem., 2020, 22, 4489-4497. DOI: 10.1039/D0GC00272K
Paper
Polyoxometalate-based metal–organic framework-derived bimetallic hybrid materials for upgraded electrochemical reduction of nitrogen
Xinming Wang, Zemin Feng, Boxin Xiao, Jingxiang Zhao, Huiyuan Ma, Yu Tian, Haijun Pang and Lichao Tan
Green Chem., 2020, 22, 6157-6169. DOI: 10.1039/D0GC01149E
Paper
Continuous flow processing of bismuth-photocatalyzed atom transfer radical addition reactions using an oscillatory flow reactor
Pauline Bianchi, Jason D. Williams and C. Oliver Kappe
Green Chem., 2021, Advance Article. DOI: 10.1039/D0GC03070H
Paper
Chemo- and Regioselective Hydroformylation of Alkenes with CO2/H2 over a Bifunctional Catalyst
Kaimin Hua, Xiaofang Liu, Baiyin Wei, Zilong Shao, Yuchao Deng, Liangshu Zhong, Hui Wang and Yuhan Sun
Green Chem., 2021, Accepted Manuscript. DOI: 10.1039/D0GC03913F
We hope you enjoy reading the articles.