Associate Editor, Buxing Han has selected some outstanding research to share with you from Green Chemistry. Read them now for free until the end of February 2021!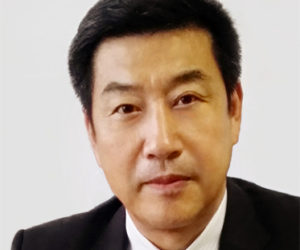 Professor Buxing Han received his Ph.D. degree from the Institute of Chemistry, Chinese Academy of Sciences (CAS) in 1988, and did postdoctoral research from 1989 to 1991 at the University of Saskatchewan, Canada. He has been a professor at the Institute of Chemistry, CAS since 1993.
His research interests include physicochemical properties of green solvent systems and applications of green solvents in green chemistry, especially on transformation of CO2 and biomass into valuable chemicals and fuels. He has published more than 700 papers in peer-reviewed scientific journals, such as Science, Nat. Commun., Sci. Adv., J. Am. Chem. Soc., Angew. Chem. Int. Ed., Chem. Rev., Acc. Chem. Res. and the papers have been cited more than 28000 times. He has also published 40 patents.
He is Academician of Chinese Academy of Sciences, Fellow of the Academy of Sciences for the Developing World(TWAS), Fellow of Royal Society of Chemistry, former Chairman of IUPAC Subcommittee on Green Chemistry, Titular Member of Division III, IUPAC.
Submit your research to Buxing here
Read Buxing's choices for free now:
Paper
Highly effective capture and subsequent catalytic transformation of low-concentration CO2 by superbasic guanidines
Hui Zhou, Wei Chen, Ji-Hong Liu, Wen-Zhen Zhang and Xiao-Bing Lu
Green Chem., 2020, 22, 7832-7838. DOI: 10.1039/D0GC03009K
Paper
Thiol-promoted catalytic synthesis of high-performance furan-containing lubricant base oils from biomass derived 2-alkylfurans and ketones
Sibao Liu, Rameswar Bhattacharjee, Sha Li, Andrew Danielson, Tobias Mazal, Basudeb Saha and Dionisios G. Vlachos
Green Chem., 2020, 22, 7896-7906. DOI: 10.1039/D0GC01897J
Paper
Dipolar cycloadditions of HMF-based nitrones: stepwise and multicomponent reactions, stereochemical outcome and structural scope
Lianjie Wang, Charlie Verrier, Mohammed Ahmar and Yves Queneau
Green Chem., 2020, 22, 7907-7912. DOI: 10.1039/D0GC03004J
Paper
Tuning the coordination number of Fe single atoms for the efficient reduction of CO2
Huihuang Chen, Xu Guo, Xiangdong Kong, Yulin Xing, Yan Liu, Bolong Yu, Qun-Xiang Li, Zhigang Geng, Rui Si and Jie Zeng
Green Chem., 2020, 22, 7529-7536. DOI: 10.1039/D0GC02689A
Paper
p-Xylene from 2,5-dimethylfuran and acrylic acid using zeolite in a continuous flow system
Jose Alirio Mendoza Mesa, Francesco Brandi, Irina Shekova, Markus Antonietti and Majd Al-Naji
Green Chem., 2020, 22, 7398-7405. DOI: 10.1039/D0GC01517B
Paper
"Barking" up the right tree: biorefinery from waste stream to cyclic carbonate with immobilization of CO2 for non-isocyanate polyurethanes
Heyu Chen, Prashant Chauhan and Ning Yan
Green Chem., 2020, 22, 6874-6888. DOI: 10.1039/D0GC02285C
We hope you enjoy reading the articles.