Prof. em. Dr. Dr. h.c. Wilhelm Keim, (1934 – 2018)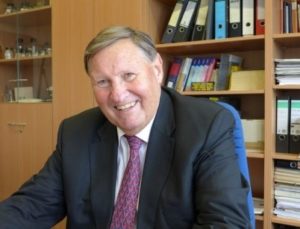 Wilhelm Keim was born on 1 December 1934 in Oberhausen, Germany. He studied chemistry in Münster and Saarbrücken before he moved to the Max-Planck-Institute for Coal Research in Mülheim/Ruhr headed by Karl Ziegler, to work on his dissertation under the guidance of Günther Wilke. He obtained the PhD in 1963 for his work on π-allyl complexes of Ni, Pd and Pt. After two years as a postdoc with Thomas J. Katz at Columbia University, New York, he joined the Shell Oil Componay in the USA, where he rapidly rose through the ranks and became department head and research manager at a young age. During this time he and his team developed the Ni-catalysed oligomerisation of ethene, essential part of what we know as the Shell Higher Olefin Process, SHOP. With an annual capacity of more than 1 million tons of α-olefins, this process is one of the important large scale applications of homogeneous transition metal catalysis. The resulting alkenes are important intermediates for the production of surfactants and as co-monomers for low density polyethylene and other polyolefins.
In 1973 Wilhelm Keim moved back to Germany, accepting the offer of the Chair of Industrial Chemistry at RWTH Aachen as successor of Friedrich Asinger. He continued to carry out fundamental studies on alkene oligomerisation but also worked on a wide range of transition metal catalysed reactions employing homogeneous and heterogeneous catalysts. He became a leading figure in the catalysis landscape, sought after expert, and advisor to many companies over the years. Notably he was also member of the supervisory board of Degussa AG for several years.
Wilhelm was always an ambassador for fundamental research as well as for application oriented research and he managed to find a balance between both, fostering the collaboration and dialog between industry and university. He had a fine sense for new developments and the potential of new research areas and was among the pioneers exploring new types of solvents like ionic liquids and fluorinated solvents. Also his work on CO2 as a feedstock broke new ground. He was an inspiring teacher and mentor for more than 150 PhD students, always personally concerned about their career in industry and academia. Many of us continued to consult him for advice, from leading positions in industry and from academia alike. All of them form a well-connected network as the so-called "Keimlinge" (English translation: seedlings).
With his professional drive, his charismatic personality and wit, he also served the scientific community through organisations like GDCh, DECHEMA and DGMK for many years on the board or as chairman or president. He also was a founding member of the Petrochemical Division of DGMK. His many years of service and scientific achievements were recognised with the Carl-Engler-Medal in 1999 and he became an honorary member of DECHEMA. He was member of the Russian Academy of Sciences and Academia Europaea and Dr. h.c. of the University of Lille, France. He was also honorary professor at the Dalian University of Technology and University of Hangzhou, China, as well as adjunct professor at King Fahd University of Dharhan, Saudi Arabia.
In 2001 Wilhelm Keim retired and became emeritus professor. He supported his successor, Walter Leitner, in such an exemplary manner that Walter always refers to him as "the best imaginable predecessor". For many years he continued to advise companies and scientific organisations and kept contact to a huge community of colleagues and friends.
Wilhelm Keim died on 30 September 2018 at the age of 83. He leaves a hole in our hearts and will be dearly missed as an outstanding scientist, wonderful mentor and dear friend by so many colleagues in the community.
Arno Behr, Stefan Mecking, Dieter Vogt