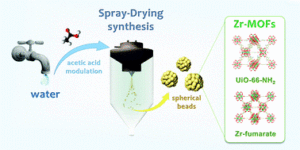 Following publication in Green Chemistry of:
Aqueous production of spherical Zr-MOF beads via continuous-flow spray-drying
Ceren Avci-Camur, Javier Troyano, Javier Pérez-Carvajal, Alexandre Legrand, David Farrusseng, Inhar Imaz and Daniel Maspoch
Green Chem., 2018, 20, 873-878. DOI: 10.1039/C7GC03132G
EU project partners research team have successfully developed synthesis processes enabling the manufacture of metal organic framework (MOFs) materials at an industrial scale. These innovative methods have reduced production costs permitting MOFs to be priced competitively against many current market leading materials. Being able to offer MOFs at an economically viable cost and utilising their superior performance, these materials are perfectly suited to meet tomorrow's big challenges in energy, environmental and health related application areas.
Find out more and read the press releases:
http://www.prodia-mof.eu/news.html