On Friday 14 September, the Queen's University Ionic Liquid Laboratories Research Centre (QUILL) at the School of Chemistry and Chemical Engineering, Queen's University Belfast hosted a Memorial Seminar for former Green Chemistry Advisory Board, Professor Ken Seddon OBE. Green Chemistry were very proud to sponsor the event.
The extremely-well attended seminar commemorated Ken's larger-than-life personality and his contributions to science.
You can find out more about Professor Seddon's contribution to the field of green chemistry in a special Obituary written by Dr John Holbrey and Professor Tom Welton OBE, published in Green Chemistry. Read it here.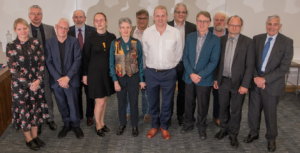 Pictured are the speakers (L-R): Dr Gabriela Fedor, Evonik Industries; Professor Walter Leitner, Max Planck Institute for Chemical Energy Conversion; Professor Edwin Constable, University of Basel; Professor Jim Swindall CBE, Green Lizard Technologies Ltd; Dr Gosia Swadzba-Kwasny, Queen's University Belfast; Professor Elaine Seddon, The University of Manchester; Professor Peter Licence, University of Nottingham; Professor Tom Welton OBE, Imperial College London; Dr John Holbrey, Queen's University Belfast; Professor Douglas MacFarlane, Monash University; Professor Christopher Adams, XeF6 Consulting/Cardiff Catalysis Institute; Professor Peter Wasserscheid, University of Erlangen-Nuremberg; and Dr Donald Braben, University College London.