This collection showcases all 2017 Green Chemistry articles highlighted as HOT by the handling editor. Congratulations to all the authors whose articles are featured.
Read it here for free until the end of February 2018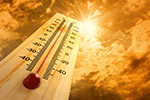 It includes:
Perspective 
The E factor 25 years on: the rise of green chemistry and sustainability
Roger A. Sheldon
Green Chem., 2017, 19, 18-43. DOI: 10.1039/C6GC02157C
Critical Review 
Lignin transformations for high value applications: towards targeted modifications using green chemistry
S. Gillet, M. Aguedo, L. Petitjean, A. R. C. Morais, A. M. da Costa Lopes, R. M. Łukasik and P. T. Anastas
Green Chem., 2017, 19, 4200-4233. DOI: 10.1039/C7GC01479A
Tutorial Review 
Metal–organic frameworks meet scalable and sustainable synthesis
Patrick A. Julien, Cristina Mottillo and Tomislav Friščić
Green Chem., 2017, 19, 2729-2747. DOI: 10.1039/C7GC01078H
Communication 
Incorporation of carbon dioxide into phthalides via ligand-free copper-catalyzed direct carboxylation of benzoxasiloles
Thanh V. Q. Nguyen, José A. Rodríguez-Santamaría, Woo-Jin Yoo and Shū Kobayashi
Green Chem., 2017, 19, 2501-2505. DOI: 10.1039/C7GC00917H
Communication 
Effective separation of aromatic and aliphatic amino acid mixtures using ionic-liquid-based aqueous biphasic systems
Emanuel V. Capela, Maria V. Quental, Pedro Domingues, João A. P. Coutinho and Mara G. Freire
Green Chem., 2017, 19, 1850-1854. DOI: 10.1039/C6GC03060B
Paper 
Metal-catalyzed reductive deamination of glutamic acid to bio-based dimethyl glutarate and methylamines
Free De Schouwer, Thomas Cuypers, Laurens Claes and Dirk E. De Vos
Green Chem., 2017, 19, 1866-1876. DOI: 10.1039/C6GC03222B
Paper 
Biphasic extraction of mechanocatalytically-depolymerized lignin from water-soluble wood and its catalytic downstream processing
Gaetano Calvaruso, Matthew T. Clough and Roberto Rinaldi
Green Chem., 2017, 19, 2803-2811. DOI: 10.1039/C6GC03191A
We hope you enjoy reading the articles.
Is your research HOT? Our editors are already handpicking the hottest 2018 content for our rolling 2018 . Submit your work for consideration now.