We are delighted to announce that the inaugural Green Chemistry Emerging Investigators 2017 themed issue is now online and free to access until the end of August 2017.
This issue highlights the excellent research being undertaken by the rising stars of the green chemistry field from across the globe. All contributors were nominated by a member of the Green Chemistry Editorial or Advisory Board as an outstanding researcher in the early stages of their independent career, making a significant contribution to the advancement of green chemistry.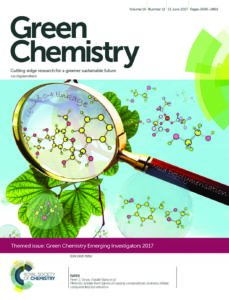 Congratulations to all of those whose work is featured in the collection and we hope you enjoy reading it.
Read the full collection online
It includes:
Editorial
Green Chemistry Emerging Investigators 2017 themed issue
Green Chem., 2017, 19, 2707-2710. DOI: 10.1039/C7GC90063E
Perspective
Green chemistry and polymers made from sulphur
Max J. H. Worthington, Renata L. Kucera and Justin M. Chalker
Green Chem., 2017, 19, 2748-2761. DOI: 10.1039/C7GC00014F
Tutorial Review
Metal–organic frameworks meet scalable and sustainable synthesis
Patrick A. Julien, Cristina Mottillo and Tomislav Friščić
Green Chem., 2017, 19, 2729-2747. DOI: 10.1039/C7GC01078H
Paper
Phenolic acetals from lignins of varying compositions via iron(III) triflate catalysed depolymerisation
Peter J. Deuss, Christopher S. Lancefield, Anand Narani, Johannes G. de Vries, Nicholas J. Westwood and Katalin Barta
Green Chem., 2017, 19, 2774-2782. DOI: 10.1039/C7GC00195A
Paper
Biphasic extraction of mechanocatalytically-depolymerized lignin from water-soluble wood and its catalytic downstream processing
Gaetano Calvaruso, Matthew T. Clough and Roberto Rinaldi
Green Chem., 2017, 19, 2803-2811. DOI: 10.1039/C6GC03191A
Paper
Base-catalysed, one-step mechanochemical conversion of chitin and shrimp shells into low molecular weight chitosan
Xi Chen, Huiying Yang, Ziyi Zhong and Ning Yan
Green Chem., 2017, 19, 2783-2792. DOI: 10.1039/C7GC00089H