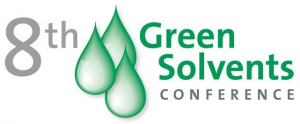 Green Chemistry are pleased to support the 8th Green Solvents Conference which is due to take place on 16th October in Kiel, Germany.
Since its foundation in the year 2002, the "Green Solvents" biennial conference series has been established as a unique platform for the discussion of scientific progress and industrial implementation of advanced fluids in chemical synthesis and processes. Topics include aqueous phases, ionic liquids, supercritical fluids, green organic solvents, liquid polymers, phase-separable reagents and solvent-free processes.
The lecture programme consists of a special Sunday evening lecture, keynote lectures, invited lectures and submitted oral presentations. The poster session plays a key role for the discussion of cutting edge results in the field. Special low rates and support for young scientists and PhD students facilitates their active participation.
Invited Speakers
Green solvents in carbohydrate chemistry – María José Hernáiz Gómez-Dégano, Complutense University, Madrid
Hydrophobic deep eutectic solvents: design, properties and applications – Maaike Kroon, The Petroleum Institute, Abu Dhabi/UAE; D.J.G.P. van Osch, Eindhoven University of Technology, Eindhoven/NL; L. F. Zubeir, Eindhoven University of Technology, Eindhoven; A. van den Bruinhorst, Eindhoven University of Technology, Eindhoven; M.A.A. Rocha, University of Bremen, Bremen
Multiphase catalysis with carbon dioxide – new process opportunities for the selective upgrading of renewable feedstocks – Ulrich Hintermair, University of Bath, Bath
Gamma-valerolactone as a renewable solvent for catalysis – Laszlo T. Mika, Budapest University of Technology and Economics, Budapest
Lewis superacids in ionic liquids – Malgorzata Swadzba-Kwasny, The Queen's University of Belfast, Belfast
Please note the deadline for Submission of Abstracts is 2nd May 2016.  Please see the webpage for more details.