2016 is the Silver Anniversary for the field of Green Chemistry being 25 years since the term "Green Chemistry" was coined and defined in 1991. To mark this occasion, the 2016 Issue 1 of Green Chemistry features an Editorial looking at the journey of the field to date and introducing an initiative designed to stimulate discussion on the vision for the field. You can read the Editorial by Paul Anastas, Buxing Han, Walter Leitner and Martyn Poliakoff here.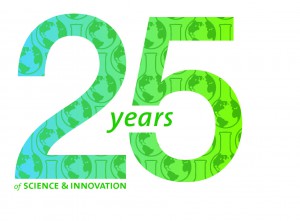 We have asked colleagues from the Editorial and Advisory Board of Green Chemistry to comment on individual Principles that relate to their specific area of expertise and to share their personal views with our community.
Every month of 2016, Green Chemistry will feature one such perspective Editorial (collated online: rsc.li/gc-25years) hopefully initiating a lively exchange of views and ideas here on the Green Chemistry blog. We encourage you to use the comments facility below to share your views on each principle.
The Editorials are not meant to provide answers, but to stimulate questions on how the Principles have influenced research agendas, how they connect to challenges and opportunities that may not have been visible twenty five years ago, why they are still valid or what needs to be adjusted, etc..
Most importantly, the aim is to not primarily to look back in praise of the undisputable achievements, but to provide a vision towards celebrating the Golden Anniversary of the field in 2041 and beyond.